The History
As a kid in the early 1990s, I remember going to Dover, Tenn. each Sunday after church for lunch.  There was a restaurant on top of a hill on US 79 that served a great home-style buffet.  The name of the restaurant escapes my memory and it closed many years ago.
The drive from my church near Murray to Dover was tough.  Most days the preacher stopped at noon and by the time we were on the road my stomach was eating itself.
Despite my usual starvation, the trips to Dover were interesting to me.  Many things could be seen on the trip, such as the new Ned McWherter bridge being built across Kentucky Lake at Paris Landing.  The lake itself was always nice to see, too.
But what really peaked my interest were the things that trees had mostly covered up along the highway:  an intact bridge in the woods and an old paved road with its access cut off.  Why was that bridge still there?  Where did that old road go?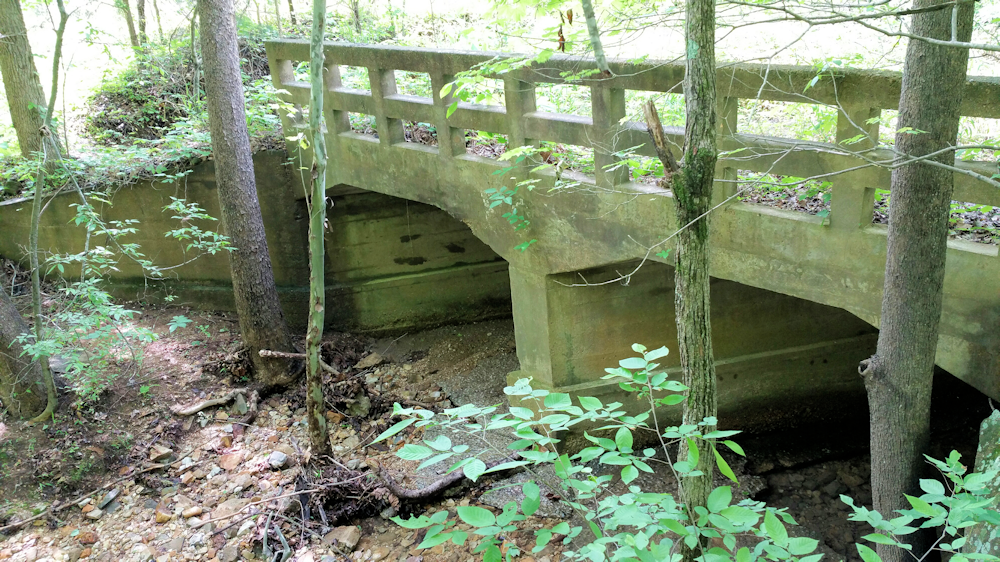 Of course I had no way of knowing.  I was a teenager without a driver's license.  And I thought it was really weird to have an interest in stuff like that, so I kept my odd fascinations to myself.  It was an itch that needed scratching.
Once I received my license, I never went down there to check it out.  I honestly don't know why – I've slept 10,000 nights since then.  But in 2001, I started a Kentucky Lake tourism website that would give me opportunities to explore the vast recreational playground in my backyard.
To this day, ExploreKentuckyLake.com promotes Kentucky Lake, Lake Barkley and Land Between The Lakes.  A small section of the website called Explorations featured places that were cool but largely unknown.  Me and my wife ventured out occasionally to explore these unknowns, take photos and write about them.
Several years ago we started brainstorming about how we could try to take the idea of Explorations as well as the main website and begin a regional print magazine. From a business standpoint, print advertising was easy to sell. So we thought the high cost of producing a magazine would be covered.  In November 2006, Four Rivers Explorer was born.
It was fun.  Our staff put together a 32-page, full-color magazine each month.  We covered fishing, hunting, special wildlife and environmental topics, campfire cooking recipes and even had a fine dining section.  And I got to do my Explorations articles as well.  We put out a great product that became profitable after a few issues.
However, the magazine had an identity crisis.  Was it a tourism magazine?  Was it an adventure magazine?  Or was is just a pretty publication that had no real purpose?  It became apparent after a year or so that we had a hard time figuring out what our product was.
With the identity crisis, dwindling revenues, and lack of resources we produced last magazine in early 2008.  We printed a total of 16 issues.
The experience of the print edition of Four Rivers Explorer taught me a lot of lessons and recovering from the losses look a long time.  Afterwards, my company began to focus on building back up our web presence with ExploreKentuckyLake.com as well as other internet properties.
In 2013, we began work to resurrect the idea of Four Rivers Explorer.  This time around, we were going to bring the magazine online and have a sharper focus.  Then life happened, things got delayed and other issues took precedence.
Three years later we dove back in.  We outlined the new website, got the identity nailed down, gathered and wrote content, and we launched the new Four Rivers Explorer in the Spring of 2016.
One of the first articles on this new site covered my trip back to US 79 near Dover.  After 25 years, I finally got to see that old bridge up close.  Read about it here.
I finally scratched the itch.
The Mission
To showcase the lesser-known, unique places of the Four Rivers region and to tell stories of its unique history and culture.
The Footprint
Four Rivers Explorer focuses on the western Kentucky, southern Illinois and northwest Tennessee region.  The Mississippi, Ohio, Tennessee and Cumberland Rivers make up the "four rivers" and all join together fairly close to each other.  Our footprint might expand a bit, but there's plenty to cover locally for now.
The Content
What you can expect to see on Four Rivers Explorer is a blend of historical pieces and profiles of unique places that you might can experience yourself.  The site and even some of the articles themselves will always be a work in progress.
You'll see and read about things that are lost and abandoned or things that tell a story.   You can read about the awesome wonders of nature with rivers, caves, lakes, springs, wildlife, or whatever our Creator has designed for us.  You'll see excellent photography, read great stories and learn about some of the wonderful history of the Four Rivers area.
Hopefully the site will inspire you to go out and experience something totally different or that you'll learn about some of our unique history here in our backyard.
Disclaimer
Some of the places we write about on Four Rivers Explorer may be closed to the public or on private property.  Whenever possible, we will do our best to make that distinction in our articles.  Additionally, some of the places featured on Four Rivers Explorer are way off the beaten path.
If you choose to visit any of the places that we highlight on this website, you are responsible for your own actions.  We cannot be held liable in any way if you trespass, get hurt, choose to deface or destroy property, or any other decision you make that could get you in trouble our cause you or others bodily harm or death.
Read our Privacy Policy & Terms of Service for more information.
Attribution & Content Submission
We attribute all our sources of images, photos and content whenever possible.  All researched articles will have proper sourcing and attribution.  If you have any questions or concerns about attribution or copyright issues, please contact us.
If you want to submit photos or articles to Four Rivers Explorer, we'd love to hear from you!  Anything you submit will be attributed and you will hold the rights to that content unless other arrangements are made.  If you would like to contribute, please get in touch with us.