Many years ago my wife and I along with some friends of ours had a favorite spot to camp in Land Between The Lakes (LBL).  It was one of those spots that you didn't want to tell people about because it was that good.
We had visited this spot a few times for a nice evening by the fire or to spend the night in a tent.   Beautiful scenery, isolation and the gentle lapping of Lake Barkley all provided the ingredients for a perfect outdoor getaway.
However, our secluded spot became a place of uncertainty and fright.
The Haunted Campsite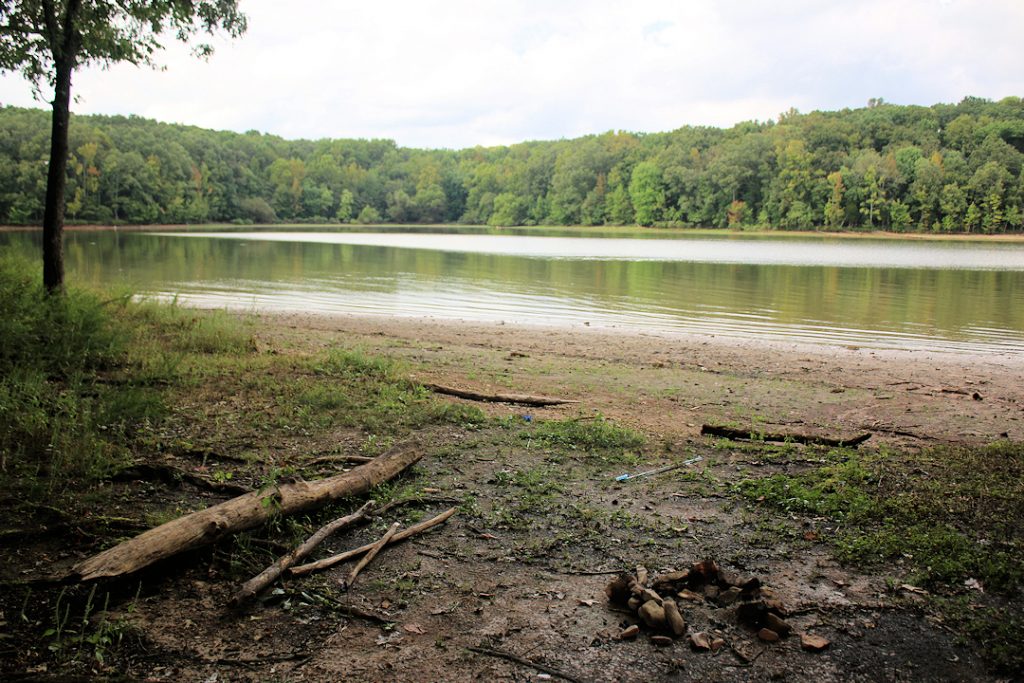 In a 2010 article for Halloween written by my former staff about ghost stories in LBL, this story of the "haunted campsite" is told.  The authors refer to me as "their source" in this tidbit, in part because I did not want to give our readers the impression that their boss was feeding them tales.  However, it was mostly because I didn't want to disclose the location of my favorite camping place.
You can read the full account of what happened in the article.  It's a long article, so I'll try to summarize it here.
My wife and I along with some friends were camping there one night.  I had placed our tent up a hill away from the rest of the tents.  As it started to get dark, I got this feeling that I needed to move the tent closer to my friends.  I initially shrugged it off but the feeling got more intense.
Right before we couldn't see anything, me and my wife picked up the tent and moved it down the hill next to our friends.  Nothing happened that night, but the feeling I had was odd and unusual.  I typically do not get worked up about stuff like that.  But on that night I needed to be close to the rest of the crew.
This uneasy feeling was a precursor to what happened a few weeks later at this same spot.
Old friends of mine, who are church-going, God-fearing people who would never make up stories went to this same camping spot on Lake Barkley one evening.  They were not camping, only building a fire, having some snacks, and enjoying the environment and fellowship.
Now I didn't go with them this time around, and quite honestly, I'm glad I didn't.  When they told me their account of what happened that night at our favorite campsite, I was blown away.
After sunset and darkness fell, my friends began to feel uneasy.  The uneasiness grew to a point of downright fright.  A noise was heard in the woods behind them, perhaps a footstep.  The intensity of their fear grew to the point where one of my friends began to be visibly shaken.  Almost immediately, another noise came from behind them, and they turned to see a "face" staring back at them.
They were not able to describe what they saw; as soon as they saw it they high-tailed it out of there.  It was only a "face" – whether it was a prankster (highly doubtful, considering their surroundings) or some sort of paranormal manifestation of a spirit or demon is unknown.  But these guys all experienced this and none of them are the kind of people to make this stuff up.
After this experience, we did not go back to this campsite, even during the day.
A few years ago I told my staff this tale and they jumped on the chance to go visit this spot.  So they did back in 2010 and wrote the original article with this particular tale.
Going Back to the Haunted Campsite
My wife and I had not been back to our old favorite camping spot, but recently we decided to go check it out once more for old time's sake.  Interestingly enough, while revisiting in broad daylight, another peculiar experience occurred.
We found our campsite after driving down a fairly rough gravel road.  The spot hadn't changed much, but I was dismayed about how trashed the site was.  Apparently many people camp there and some of them don't pack their trash out.
Why do people do this? 
Anyway, by no means was it a landfill, but we could have collected three or so garbage bags full of trash out of there.
Other than that, it was as I originally remembered it:  quite, serene, and beautiful.  No heebie-jeebies, yet anyway.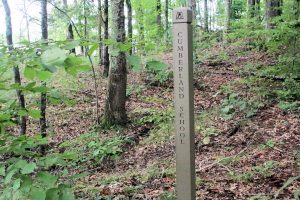 My kiddos were with us and they enjoyed exploring the shoreline of Lake Barkley.  A few hundred feet from our old campsite we spotted an abandoned cistern and a historical marker that we had not seen before.
Old cisterns, prominent in LBL, provided water for most residents who lived here prior to the 1960s.  The historical marker proclaimed the site of Cumberland School.  It's neat that a small one-room school once stood at this site.  The Golden Pond Interpretive Outlook mentions this school operated until 1949.  That explained the cistern.
I looked down the cistern to see one of the biggest wolf spiders I had ever witnessed.  Similar in size to the one we wrote about on Smokies Adventure, this was definitely the biggest one I had seen in these parts.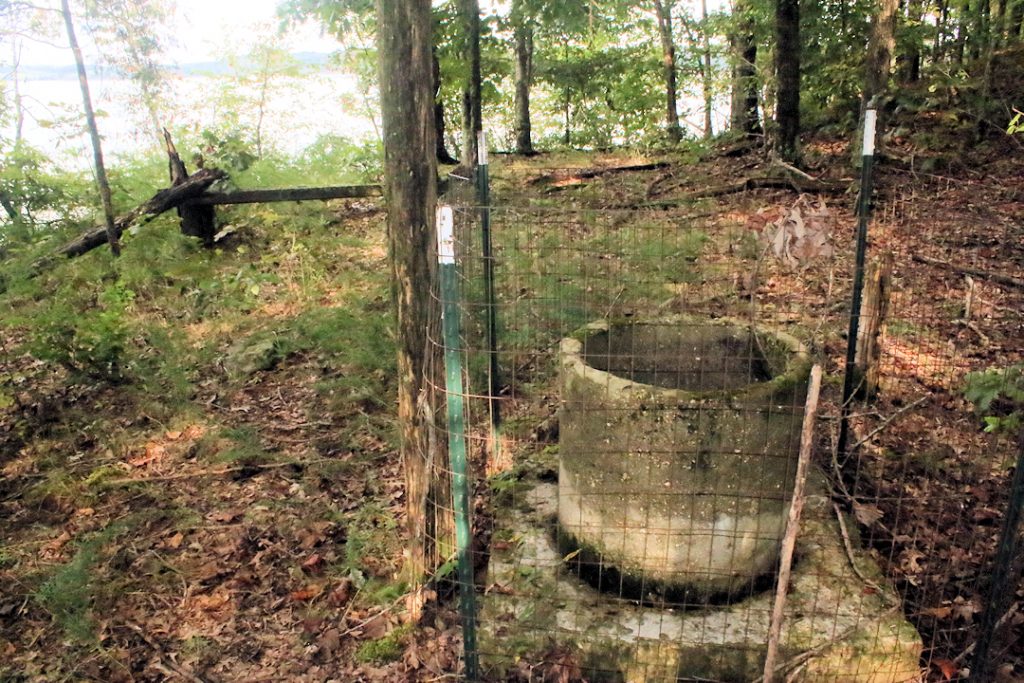 The spider sat on a tree root down inside the cistern.  Below that, a rather creepy network of roots, pools of water and God only knows what else gave an uneasy feeling.  At that point I was a bit freaked out by the scene; similar to the uneasy feeling I had 10 years prior while camping.  I tried to shrug it off as mind tricks – after all, this place had a reputation for being "haunted."
I had to get a picture of the spider, though.  The camera I use is a good one – a Canon 70D.  I mention this because I had just took a lot of pictures of the campsite and surrounding area and the camera worked fine.  However, when I tried to get a picture of the spider in the cistern, nothing happened.  The camera absolutely refused to focus on it and did not cooperate.
Manual focus didn't work, either.  I even tried elevating myself and the camera high above the cistern, and once again, it refused to take a photo.  Thinking a flash would do the trick, I activated the camera's flash and, yet again, the camera did not work.  I backed off the cistern, took a random photo of the trees, and the camera worked like a charm.  I went back to the cistern and tried to get the spider's photo one more time.  The camera simply would not work.
I had never experienced the camera doing this before.  Why did the camera refuse to take a photo of the spider inside the cistern?  Was this spider haunted?  Was something lurking inside the cistern that didn't want to be seen?  Could this cistern be a portal to hell itself??  Obviously I'm joking here, but the fact that my camera didn't want to take a picture at this site with its reputation was a little chilling.
The Location Revealed
So where exactly is this haunted campsite located?  In the past I've been reluctant to share it because I didn't want my spot to be widely known.  Now that I'm older and don't get to camp much anymore, I'll tell you where it is – under a couple of conditions.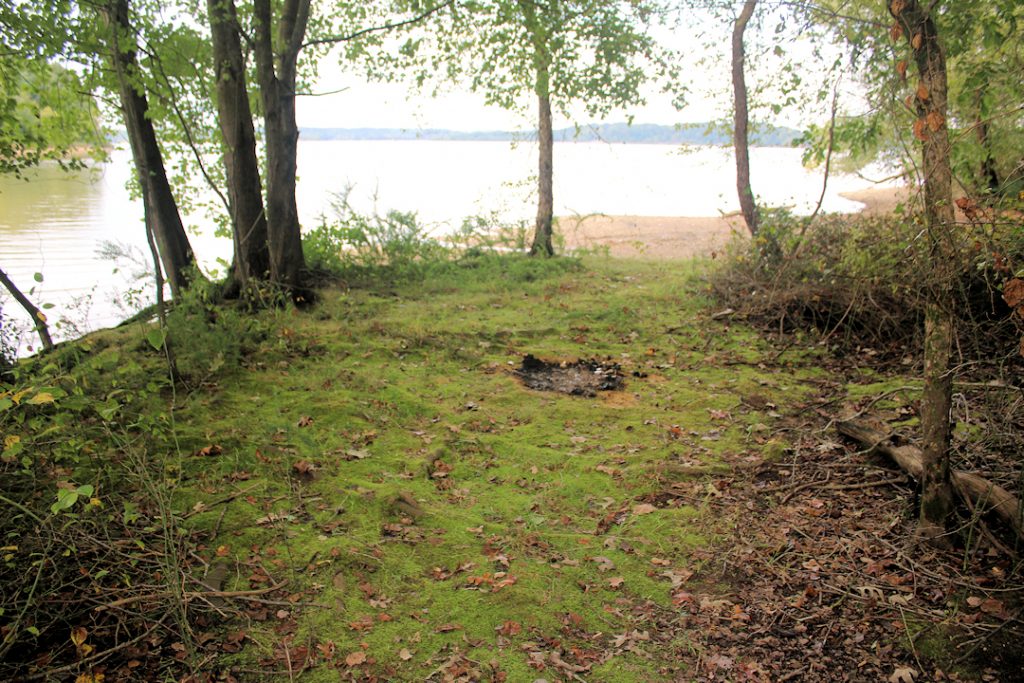 First, take a garbage bag with you.  Take your trash out if you camp there.  If you don't camp or have trash, take some of the old trash left behind with you.  It bothers me a great deal to see backcountry campsites in LBL trashed.  Always leave no trace, and leave it better than you found it!
Secondly, don't go and try to raise hell or have séances or anything like that.  LBL has enough crazy stories of loons doing stupid stuff, so please don't add to it.
If you want to get together with some friends and have a camping trip or a cookout that may or may not create some spooky experiences, this is a great location.
From US 68/KY 80 in Land Between The Lakes, take Energy Lake Road (LBL Road 134, which is located near the Lake Barkley Bridge).  Go about three miles to LBL Road 156.  Turn right on 156.  This road may be impassable for low-riding cars.  Follow 156 all the way back to Lake Barkley.  The road forks at one point.  Wallace Cemetery is on one fork that goes to the right.  Do not take this route, I don't know where it goes and it's very steep.
Also, Google Maps shows a ton of different roads/paths in this area.  I don't know why; therefore, it is not that reliable.  I included a marker on Google Maps (see below) that shows the precise location of our campsite.  A few hundred feet east of the campsite is the old cistern and the former site of Cumberland School.
The GPS coordinates for the campsite is 36.836176,-87.989054.
Is The Campsite Really Haunted?
I don't personally believe in ghosts, as in the kind where you experience a dead relative or whatnot.  I do believe in demonic forces (being a Christian, these things are, in fact, real) and they don't particularly care for human beings.  What my friends experienced that night may have been a manifestation of a demonic force.  I don't know what else it could have been, quite honestly, but this article is not an invitation for you to go and see if you can find some demons.
But if you do want to see the place where this occurred, and if you're brave enough to stay overnight, enjoy yourselves!  Despite the bizarre occurrence with my friends and my feelings of not wanting to go here at night, it is truly a wonderful, beautiful spot to camp.  The gorgeous shorelines of Lake Barkley and the beautiful sunrise in the morning are definitely worthy of experiencing.
Don't forget to purchase a backcountry camping permit at the Golden Pond Visitor's Center.  And remember – leave no trace!