When people first hear about Devil's Pulpit, they might assume it is a place of fright and horror. A cold, dreaded place filled with fear and uncertainty. But what if I told you Devil's Pulpit, found in southeastern Calloway County, Kentucky near New Concord, was a serene and peaceful place, filled with natural beauty and wonder?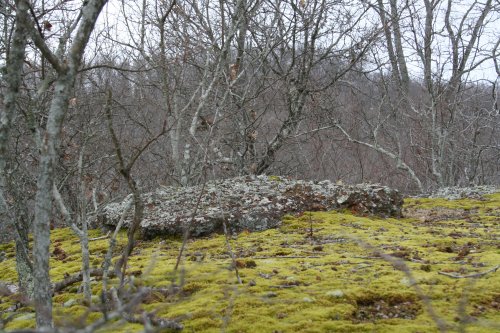 Devil's Pulpit is located about 200 yards off Deerberry Lane in the Blood River bottoms. This rock formation sits up high on a steep hill overlooking the valley below. Situated at about 500 feet above sea level, the pulpit rises 130 feet above the river and provides a great vista. The only sign of civilization is a communications tower in the distance. Various types of trees can be seen everywhere, with a few of them even growing on top of the rock.
But why would such a place be known as "Devil's Pulpit"? There certainly isn't anything frightening about the hill. In fact, it reminded me a little of the Smoky Mountains (partially because it was 35° and spitting snow when I explored it). However, according to local legend, something terrible occurred around these famed rocks.
The Legend of Devil's Pulpit
It was 1861, and the US was at the start of the Civil War. The Union forces were notorious for killing farm animals that belonged to the locals.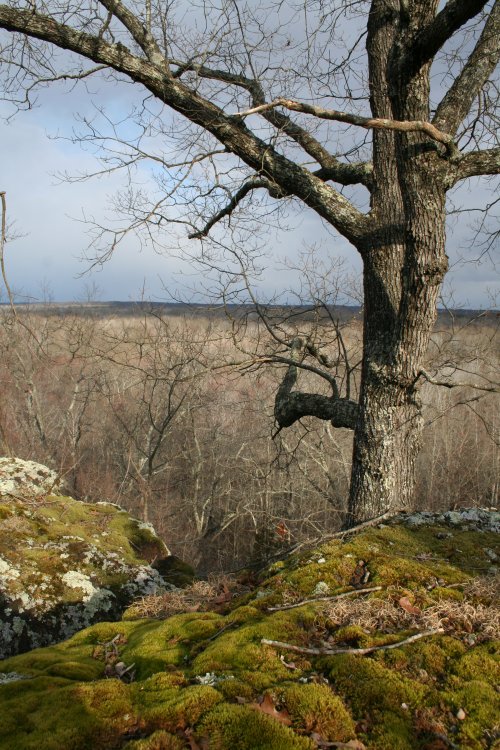 A New Concord girl, who was about 13 years of age, loved her mare. She cringed at the thought of seeing her beloved animal murdered by the South's enemies. After seeking a safe place to hide her horse, she found a spot on a hill near some large rocks. A couple of the rocks were situated perfectly to provide refuge for her adored animal.
Everyday, the girl would visit the mare to bring it food and water and provide it company. As the months went by and the war got worse, her pet remained sheltered. One day, when she went to the rocks to visit the mare, she was shocked to find a wounded Union solider near the rocks. He was too weak to find food or water, and the locals certainly wouldn't provide help. The girl felt very sorry and began to take care of him.
Everyday, she would take sustenance to the soldier and would clean his wounds. Over time, the two fell madly in love. Shortly thereafter, the unthinkable happened – she got pregnant. Now, getting pregnant out of wedlock was frowned upon in the 19th century. But getting impregnated by a "Yankee" was earth-shattering.
She decided to keep it secret as long as she could, before her and her lover would run off. She wouldn't mind running away, for her father was abusive, especially after the death of her mother. He became suspicious after noticing his daughter spending a considerable amount of time away from the house.
One day, he trailed his daughter to the pulpit. When he arrived, he was horrified to find the Union soldier there with his arms wrapped around his daughter. Shocked and extremely nervous, the girl told her father she was going to marry her lover and that she would soon be the mother of his child.
In a rage of fury, the father pulled out a large knife and killed the soldier. The girl screamed in agony but was soon silenced by the same blade. The father disappeared, and no one ever saw him again. Afterwards, the locals named these infamous rocks "Devil's Pulpit" because of the transgressions that took place there.
Whether or not if this is true, we may never know.  But it does provide a good reason as to why this place is known as "Devil's Pulpit".
Location of Devil's Pulpit
Today, the pulpit provides a beautiful setting with ferns and moss-covered rocks and trees as far as the eye can see. It is located at 36.5585143, -88.1682928 in the woods off Deerberry Lane.  It is located on private property;  at the time, we thought it was on government property since it was very close to a wildlife refuge and property owned by the Tennessee Valley Authority.

This article originally appeared in the print edition of Four Rivers Explorer in 2007.