The Map Room Recent Posts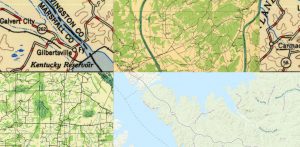 The United States Geological Survey has a great online mapping...
Read More
Browse Old Maps Online
Find historic maps and links to old maps from around the Four Rivers Region.  If you have something you'd like to share, please get in touch with us.
Please notify us of any broken links.
Kentucky Maps
Offsite Links:
Tennessee Maps
Offsite Links:
Illinois Maps
Offsite Links:
Missouri Maps
Offsite Links: