Maplewood Cemetery in Mayfield, Ky. has many unusually large and ornate burial tombs.  The most prominent memorial display in the cemetery is the Wooldridge Monuments.  The curious set of 18 statues are known as "the strange procession which never moves."
Colonel Henry G. Wooldridge erected the set of monuments shortly before his death in 1899.   Before he died, Col. Wooldridge raised, raced, and sold horses in the Mayfield and Graves County area.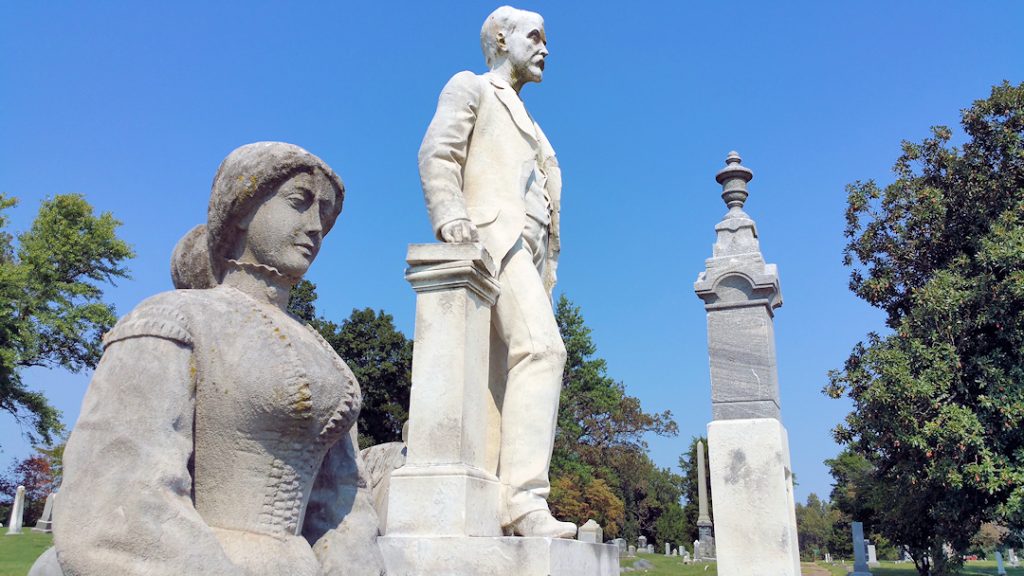 Although Col. Wooldridge is the only person buried at the site, the monument consists of statues of his mother, brothers, sisters, and nieces, as well as two statues of Henry, himself—one riding his favorite horse, the other standing beside a lectern, and statues of his dogs and other animals. Noticeably missing from this mysterious monument, however, is a representation of Henry's father.
One of the statues reportedly represents his childhood sweetheart Minnie.  According to legend, she passed away in a tragic horse riding accident which led to Col. Wooldridge remaining a bachelor his entire life.  He had never married and had no children.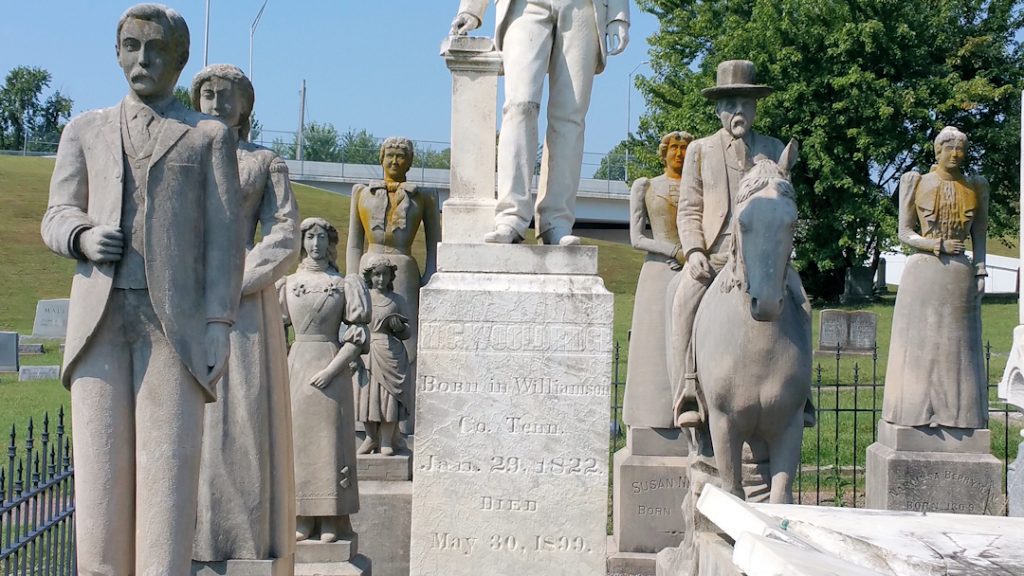 After he lost his last sister in 1892, Col. Wooldridge was left with no immediate family.  He purchased a lot in Maplewood Cemetery and ordered the statues' production for a reported $6,000 (which is around $160,000 in today's dollars).  The large statue of him on a horse was made in Italy.
According to local history, the Illinois Central Railroad supplied a special flatcar to transport the large statue of Col. Wooldridge astride his horse from Paducah, Ky. to Mayfield. The story goes that Mayfield's "town drunk" happened to be in Paducah when the flatcar left for Maplewood Cemetery and that he climbed aboard the horse and rode behind Col. Wooldridge to enter Mayfield in "grand style."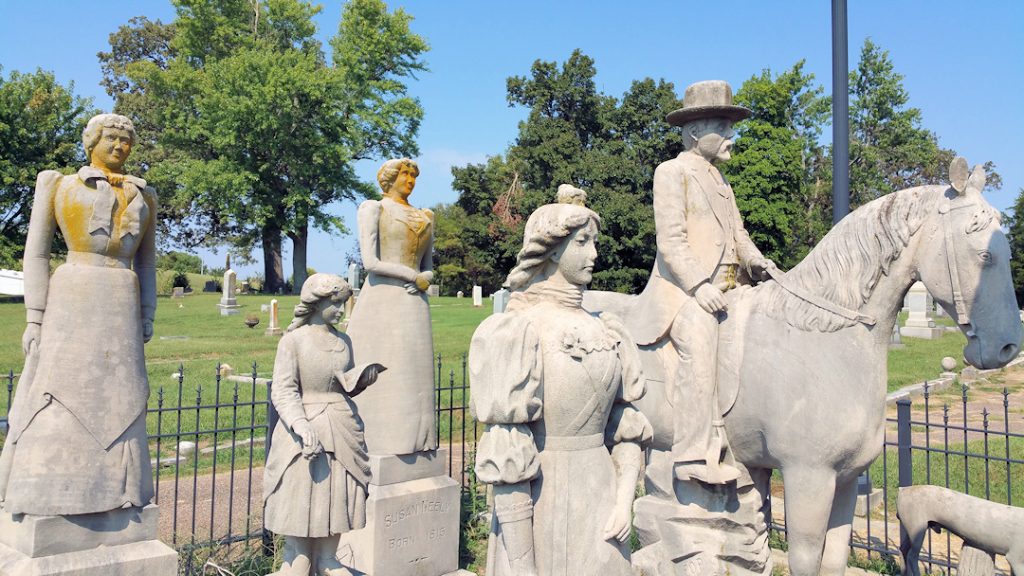 Another story claims that the metallic casket which he had ordered was too long to go inside the intricate vault, so on the day of Col. Wooldridge's burial, stone masons had to be quickly called in to enlarge the tomb.
In January 2009, a devastating ice storm struck the region causing significant damage to the statues.  $100,000 was needed to repair the monuments and money was granted to have them restored.   The Monument Conservation Collaborative, a historic monument restoration firm based in Connecticut, restored the monuments and they were rededicated in October 2010.
The Wooldridge Monuments are on the National Register of Historic Places.  You can visit the monuments in Maplewood Cemetery, located just off US 45 near the railroad overpass in Mayfield.
Resources
Mayfield-Graves County Chamber & Tourism
Wikipedia
Four Rivers Explorer, print edition – April 2007