Jackson Purchase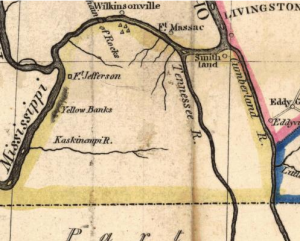 You've heard of far western Kentucky.  It is the section of the state between the Mississippi River and the Tennessee River.  However, this part of the state did not become under definitive US control in 1792 when formed.  In 1818, Andrew Jackson officially purchased the disputed land from the Chickasaw Indians.  The Kentucky part of the sale became known as the Jackson Purchase.
Jackson's purchase included lands in present-day Tennessee as well. However, only the Kentucky portion of Jackson's purchase from the Chickasaws is referred to as the Jackson Purchase.
Hickman County became the first county formed in the Jackson Purchase in 1821.  Columbus, located on the Mississippi River, became the county seat for the entire region.  Columbus was the only town in the Purchase at the time.  Some maps from this era show Columbus as Columbia.
Afterwards Hickman County had offspring and eventually became the father or grandfather of seven additional counties.
November 1822 brought forth Calloway County, the second county in the Purchase.  Calloway encompassed its modern boundaries as well as present-day Marshall County.  Wadesboro was established as Calloway County's seat.
Carved out of Hickman County, Graves County became the third county of the Purchase.  Graves became Calloway's western neighbor and continues their shared borders today.
McCracken County established itself in 1825 and the seat became Wilmington, located near present-day West Paducah.
In 1842 Ballard and Marshall counties were formed.  Ballard formed from a part of Hickman and McCracken counties and Marshall came from Calloway.  Blandville served as the county seat of Ballard County.  The seat of Calloway became Murray and the town of Benton became the seat of Marshall.
Fulton became a county in 1845.  The last county Hickman would birth was Carlisle, although it didn't form until 1886.
Historical County Boundaries of the Jackson Purchase
Here are maps showing the progression of counties in the Jackson Purchase region of western Kentucky.