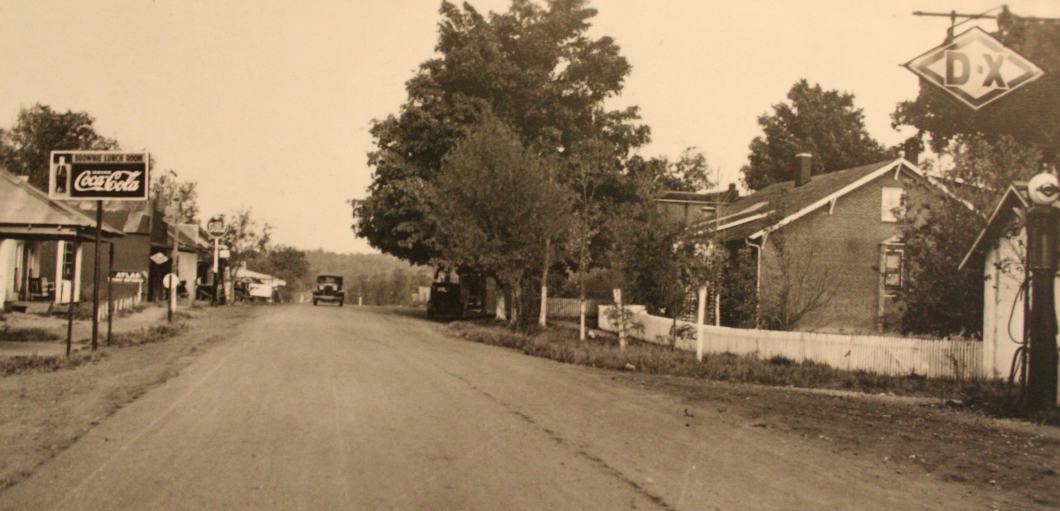 Overview of Birmingham, Ky.
Birmingham, Kentucky was the most notable community affected by the creation of Kentucky Lake.  The town of several hundred people was situated on the banks of the Tennessee River in Marshall County, Kentucky.
For reasons not known to us, the town didn't relocate in the early 1940s when TVA (Tennessee Valley Authority) built a dam on the Tennessee River.  The town was flooded permanently under several feet of water. 
History of Birmingham
The town's roots go back to 1853 when Thomas Grubbs plotted out the town on his property.  The city incorporated in 1860 and named Birmingham after the large industrial city in England.  Birmingham, England was known for its iron production and the locals wanted to mimic that trade with all the nearby furnaces and its port on the Tennessee River.
A stave mill and timber business employed over 200 people during the years after the Civil War and the town began to prosper.  The town's population grew to the point where it was larger than the county seat (Benton). By 1894, during its golden years, the town featured five churches, four dry goods and general stores, three grocers, two schools, two hotels, two millinery shops and two wagon and blacksmith shops.  In 1903, the organizers created the Bank of Birmingham.
One of the darker moments in Birmingham's history involved an incident with "night-riders."  On March 8, 1908, these night-riders from out of town raided Birmingham and whipped several African-Americans.  They shot into the homes of their families and many African-Americans fled the town for fear they would return.
Birmingham served as a shipping hub for goods going into Marshall County.  The Tennessee River was the main transportation link in Marshall County until the railroads were built in Benton in 1890 and in the northern part of Marshall County.
Commissioned in 1933, Kentucky Highway 58 passed through Birmingham to the ferry at the river.  The road served as an important link for the locals and travelers heading to Eddyville, Kentucky.
"Jumpin' Joe" Fulks was the town's most famous resident.  Born in 1921, he played college basketball at Murray State.  After his college career, he played in the NBA for several years.  Fulks reportedly created the "jump shot."  His jersey is retired and hangs in the rafters of Murray State's CFSB Center.
Birmingham's Location
Situated on the Tennessee River near the 30 mile marker, Birmingham no longer exists.  This map below show the approximate location of Birmingham.
Birmingham's Historical Population
1870:  322
1880:  224
1890:  273
1900:  291
1910:  349
1920:  355
1930:  312
1940:  (does not show up in the 1940 Census)
Birmingham Contributions
Contributors wanted!  If you have something to contribute about Birmingham, please let us know as this section, and site, is always a work in progress.
Articles Related to Birmingham