A monument of Paducah's extensive railroad history is located downtown at the riverfront wall.  This locomotive, a 1923 Mikado, along with a baggage-mail car and a caboose, is a reminder of our country's dependence on railroads throughout history.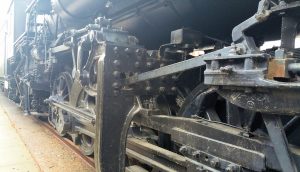 Cars, semi-trucks and highways didn't exist in the 19th century.  Folks and freight moved across the country largely on trains.  Paducah became a transportation hub in the early 20th century with the intersection of two large rail lines – the Illinois Central Railroad and the Nashville, St. Louis and Louisville Railroad.  A large railroad shop, which still exists today on Kentucky Avenue, was built in 1929, further solidifying Paducah as a railroad hub.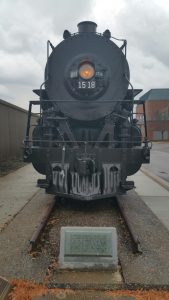 The shop refurbished this Mikado 2-8-2 in 1940 and again in 1951 before being donated to the City of Paducah in the mid-1960s.
While the railroad industry has declined substantially in the United States, it continues to play a significant role to the economy in Paducah.  If you want to go see it for yourself, head to downtown Paducah's riverfront area.  You can't miss it.
If you want to read more about the railroad history of Paducah, check out this link.