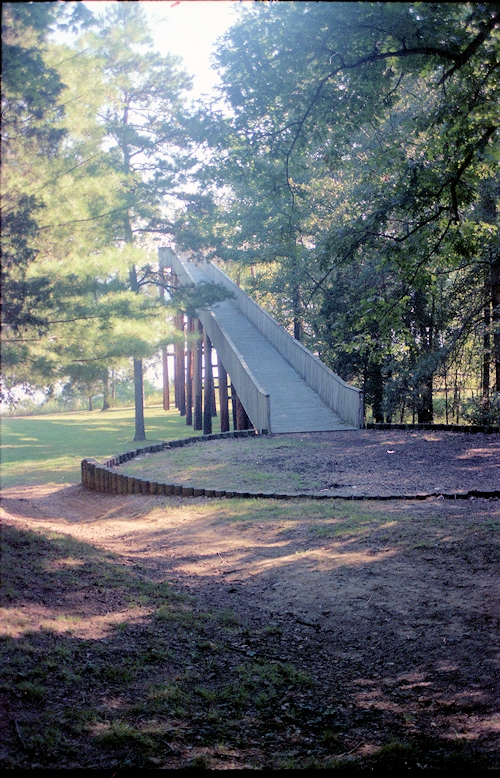 Prior to the Land Between The Lakes being taken over the by US Forest Service from TVA, one of the more popular attractions in the park was Silo Overlook.  It was located on the shores of Lake Barkley near Honker Lake at the end of Mulberry Flat Road (GPS 36.908W, 88.016N).
The structure was an abandoned silo that rises about 40 feet from the ground.  It was converted into an overlook with a wooden incline built to the top.  Folks could walk up the top of the silo for beautiful views of Lake Barkley.
Sometime in the late 1990s, or perhaps during the Forest Service/TVA transfer, Silo Overlook was abandoned.  We aren't sure why but can speculate that is was for safety and liability reasons.  The access road has been barricaded and closed to vehicular traffic, but you can walk down the old road to the remains of Silo Overlook.
The first portion of the walkway/incline has been removed to keep people off of the silo.  The rest of it is in terrible condition with all the wood deteriorating.  Extensive renovations would be needed if Silo Overlook were to ever open again.
While there, we also explored the shoreline of Lake Barkley and took some photos of some interesting objects.  As always, if you can provide any insight into these objects or the silo (especially if you have old photos of Silo Overlook open), please share them with us by emailing info@explorekentuckylake.com.  We'll credit you on this page with any information provided.
Thanks to Bryan for the photo at the top showing Silo Overlook's glory days.  The remaining photos shown here are from our trip in November 2008.