When I was a kid, I thought it would be neat to be an archaeologist.  I suppose that is why I find some of the remains of "past civilizations" fascinating in the Land Between The Lakes.  But the society that is evident in LBL today was from 50 years ago, not 5,000… a period which most archaeologists might enjoy.  In fact, many people remember what it used to be like in LBL before TVA took over.  But for folks like me, we don't have the memories… but we see the evidence and hear the stories.
Sometimes I waste time browsing satellite maps of the lakes and surrounding area.  I'll educate myself with seemingly useless information, but sometimes I'll find something that I have to go see for myself.  One day I spotted a bridge that appeared in the waters of Energy Lake.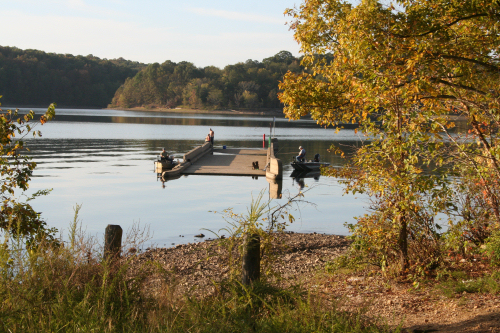 During summer pool the bridge is covered by water.  Two signs posted on the bridge warn boaters of the potential hazard.  Believe me, if the signs weren't there and your boat ran over the concrete structure, you would be in trouble.  We went out to the mouth of Energy Lake (Crooked Creek Bay) at the end of LBL Road 154 (by the way, there are a ton of backcountry camping opportunities around this area).  At the end of the road, there it was… about 100 feet from the shoreline.
The bridge is about 160 feet long, one-lane and is made entirely of concrete.  I suppose it is a fish attractor because there were several anglers out there fishing around the bridge.  The structure used to be a part of Kentucky 289, a state-road that paralleled Lake Barkley prior to the creation of the lake in the early 1960s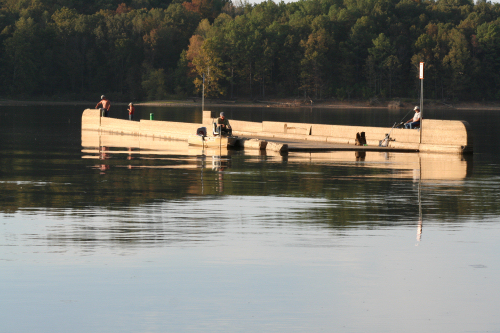 Location of the Old Bridge