A B-29 "Superfortress" bomber crashed on July 1, 1945 in southwest Marshall County, Kentucky near the Brewers community.  One of the ten crew members lived to tell about it.
The B-29, the largest and most powerful airplane at that time, was on a routine flight.  Based out of Kirtland Army Airfield in Albuquerque, the plane had stopped in Nashville for refueling shortly after midnight.  A strong thunderstorm was occurring over western Kentucky at the time.
According to accounts from the Benton Tribune-Democrat and the Murray Ledger and Times, Corporal Irving A. Elias survived the crash while the others perished.  Sometime around 1:00 a.m., an explosion occurred on the massive four-engine plane and the plane "seemed to disintegrate."
A left-wing gunner, Elias had just gone to the back of the plane in the tail section when the explosion occurred.  He said he was thrown clear but was alert enough to open his parachute.  He fell about 8,000 feet and landed in a field in the heavy rainstorm.  It was completely dark.
Although he suffered with cuts on his face, hands, and feet, he was not seriously injured. He found shelter in a nearby bush until daybreak, when he went and found the nearest residence for help. That resident was Earnest Bohannon, who took Elias to the hospital in Mayfield.
The plane wreckage was scattered seemingly everywhere in the vicinity of Soldier Creek (the name of which has a twist of irony).  Marshall County Sheriff Walker Meyer and two Mayfield physicians, Dr. E. C. Walter and Dr. R. G. Ashley, went to the scene of the crash, near the Soldier Creek Church, but found the debris strewn across two miles.
The bodies of the airmen were badly mangled and in two groups – the pilots and others in the nose of the plane and the others were a half-mile away.  One of the deceased officers had a wristwatch that stopped at 1:05 a.m.
Army officials arrived later, cleaned up the wreckage and took the bodies to Camp Campbell (now Fort Campbell).  Investigations concluded there was no sign of fire on any of the wreckage, making the plane's demise mysterious.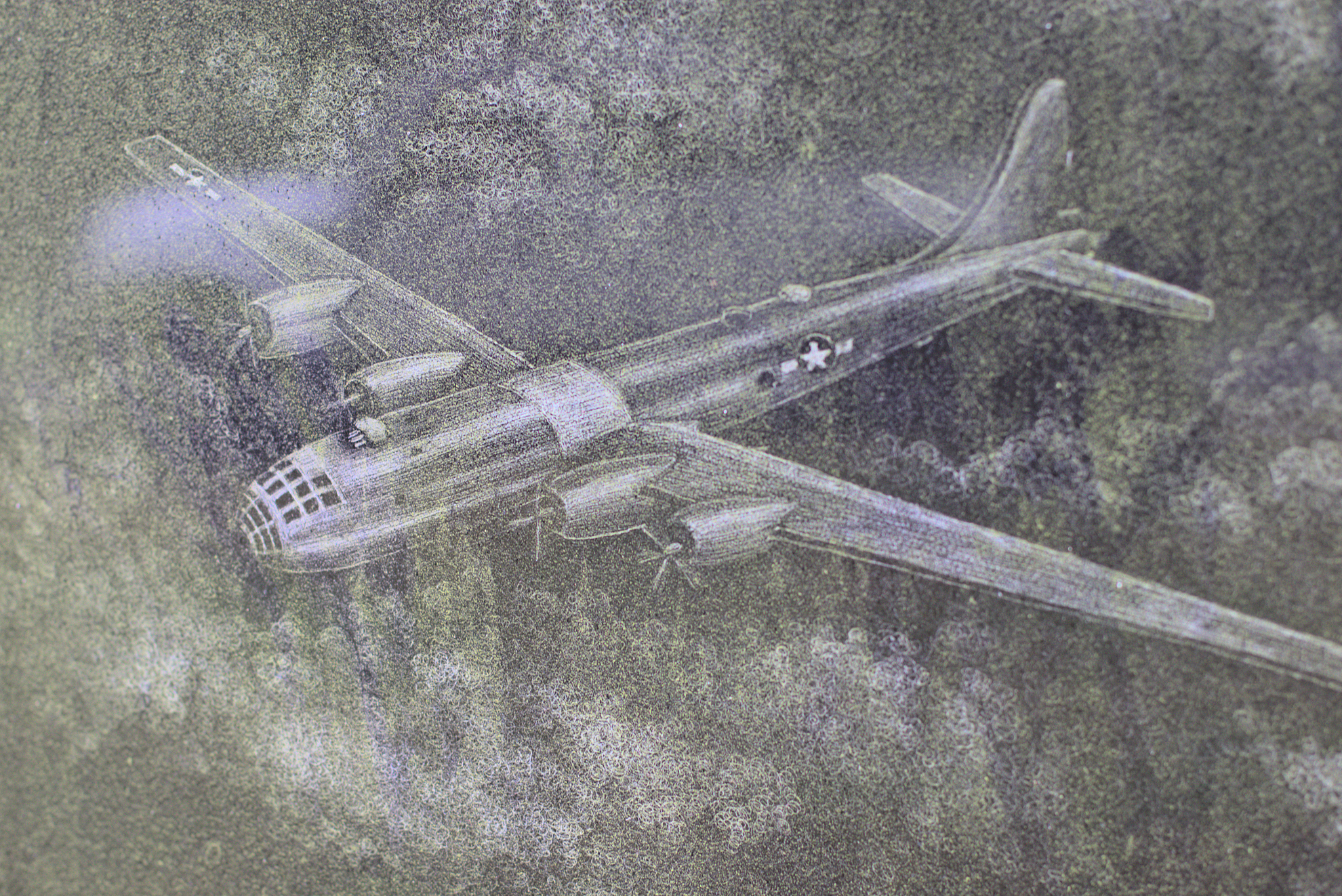 In 2008, a memorial was erected near the site of the wreckage at Soldier Creek Cemetery.  The memorial features a sketch of the Superfortress and the nine members of the crew who perished along with Elias.  Those who died:
1st Lieutenant Joseph F. Arone
Corporal Roy G. Berryhill
2nd Lieutenant Ward W. Coperhaver
2nd Lieutenant Richard O. Snow
Flight Officer Eugene M. Graham
Sergeant Romold A. Krzyzan
Sergeant Delmar H. Lumberg
Sergeant Arnold A. Rushton
Flight Officer James R. Schetzsle
The memorial is located next to the old Soldier Creek Church and cemetery, just off Kentucky 1522/Soldier Creek Road.