Let's face it – moving can be painful.  Chances are everyone reading this article has moved at least once in their lifetime.  Kids move out and get married.  Newlyweds move from apartment to apartment or to their first home.  Sometimes folks will upgrade homes and move to a bigger house to accommodate their expanding family.
Now there are a few people that can say they moved because they were forced to – by the big bad government, all in the name of progress.  We mostly see it with road construction projects in this day and age.  When a new highway is built, it's possible it might go straight through someone's living room.  With these projects, their home and land is bought and they have to relocate, usually whether they like it or not.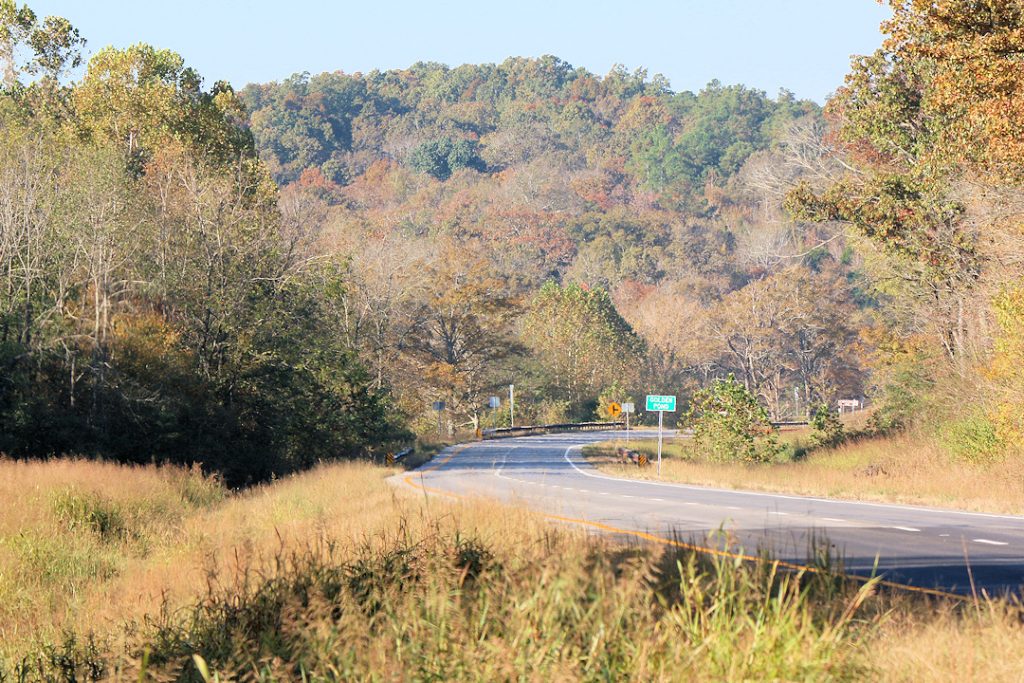 This article does not take any political or moral position on this issue known as "eminent domain."  But it's important to present the introduction to paint a picture of someone having to move because of progress.  Taking a big step further and bringing it home, western Kentucky has seen not only its typical  share of projects relocating people, but is home to three mega-projects that forced entire towns to relocate.
Kentucky Dam's construction in 1938-1944 forced thousands of people to move out of the Tennessee River valley.  Towns from Gilbertsville to Birmingham, Ky. on down to Danville and Johnsonville Tenn. had to be moved or were destroyed for the creation of Kentucky Lake.
On the Cumberland River, just a few miles east of the Tennessee River, Barkley Dam did the same thing in the late 1950s and early 1960s.  Bigger towns such as Kuttawa and Eddyville had to relocate as well as numerous highways, railroads, schools, and cemeteries.  They all had to get on higher ground before Lake Barkley would flood the valley permanently.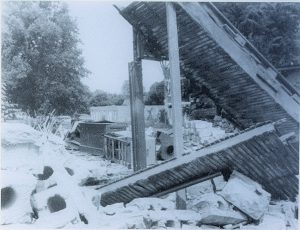 In 1963, President John F. Kennedy and the Tennessee Valley Authority decided to purchase 170,000 acres of land between Kentucky Lake and the newly-created Lake Barkley.  This area was known to the locals as "between the rivers" which lead to the present-day Land Between The Lakes (LBL).
The vast area of 265-plus square miles is now completely uninhabited.  No permanent residents live here – only campgrounds, public launch ramps and some popular attractions.  But evidence of settlements, homes, farms and communities can be found throughout LBL.
Virtually all structures in LBL were either moved out or torn down.  Less than a handful remain today, but a keen eye and knowing where to look will reveal some of the life that was here over 50 years ago.
Golden Pond – 1848 to 1969
Golden Pond could be considered the "capital city" of the between the rivers region.  It was the largest town in the present-day recreation area, although it only had a couple hundred residents, perhaps.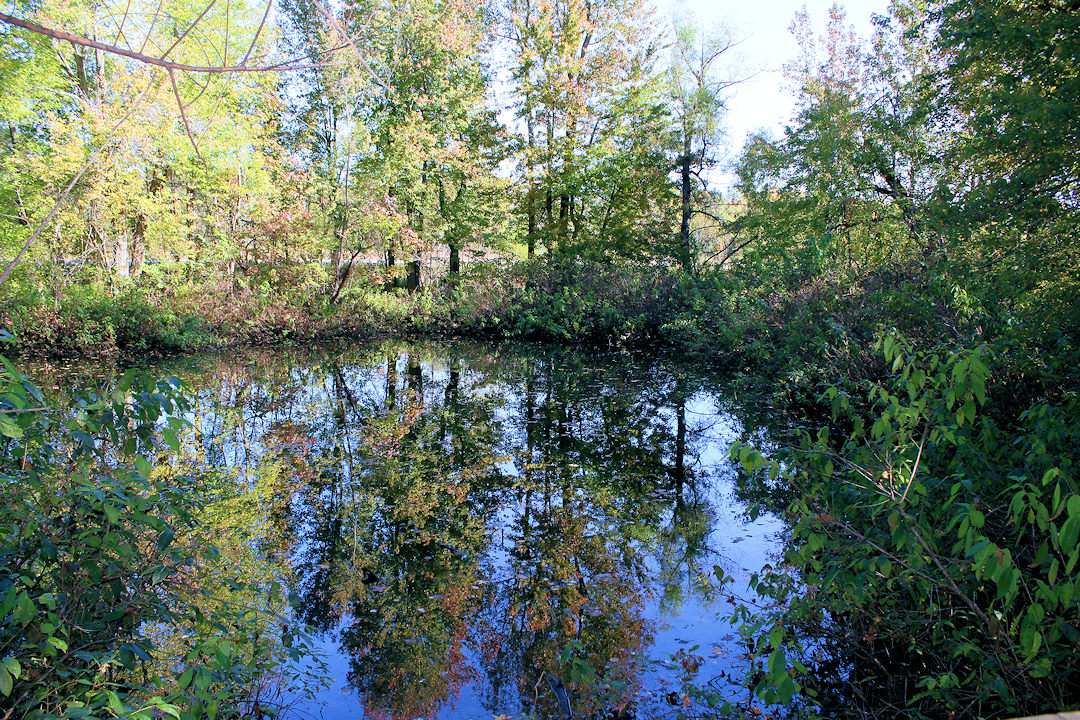 The town's roots go back to December 28, 1848, when the first post office opened.  The exact location of the post office is unknown, although some suggest it was near a "golden pond" which still exists today (visitors can see the pond at the Golden Pond Visitors Center in LBL).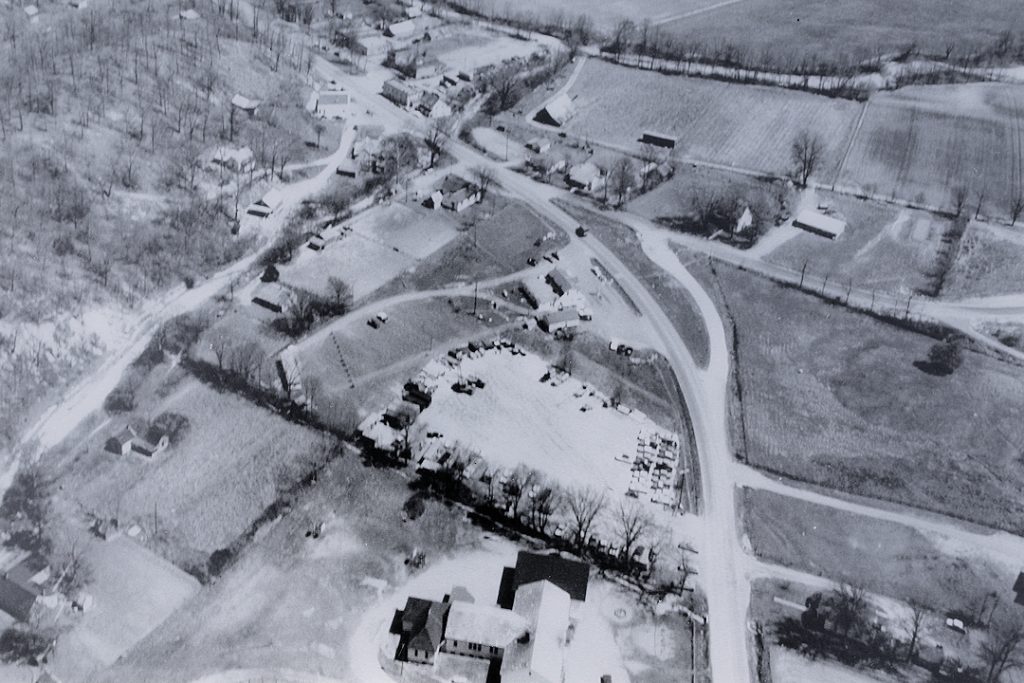 Local folklore tells the tale of a saloon springing up just to the east of the Golden Pond post office mid-19th century.  Iron and timber workers would head to the saloon to relax and have fun, so the community around the saloon was aptly called Fungo.   At some point after the Civil War, the post office moved from near the golden pond to Fungo and the residents decided to go with the more prestigious name of Golden Pond.
Despite two fires that destroyed the town, Golden Pond rebuilt and prospered due to the abundant river-bottom soil, timber and iron ore.  A well-traveled east-west road, which connected landings at the Tennessee River and the Cumberland River, passed through the town.  It was improved by the state in 1919, becoming one of first modern roadways in western Kentucky.
A bit later, US 68 came along and was routed through Golden Pond.  It was improved again in the late 1930s, around the time the town suffered its second fire.  Archived road plans give a nod to the town, providing new curbs and an enclosed garden area between the newly-proposed highway and the town's buildings.  In the late 1940s and into the early 1960s, Kentucky Lake created some additional commerce for the town with bait shops, cafes and a motel.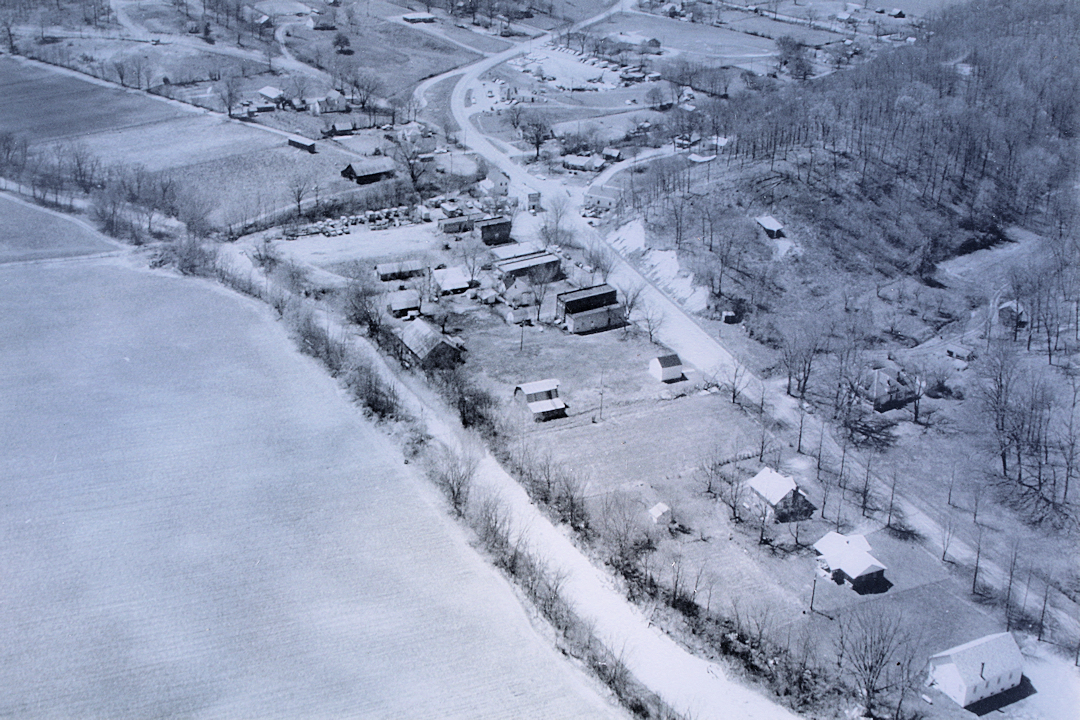 Al Capone Loved Golden Pond's Moonshine
This area was fairly poor, however. During the prohibition era of 1920-1933, some people resorted to making moonshine to make ends meet.  The secluded area of the region made for a great location to do illegal activities such as making moonshine.  Stills were abundant in the area and some made high-quality moonshine.  Golden Pond became famous (or infamous, depending on how you look at it) for its production of illegal alcohol.
In fact, legendary Chicago gangster Al Capone loved the moonshine coming from Golden Pond.  He ordered the stuff on a regular basis and his buyers would fly in and out of a nearby airstrip at Fenton, about four miles west of Golden Pond.
The Final Days of Golden Pond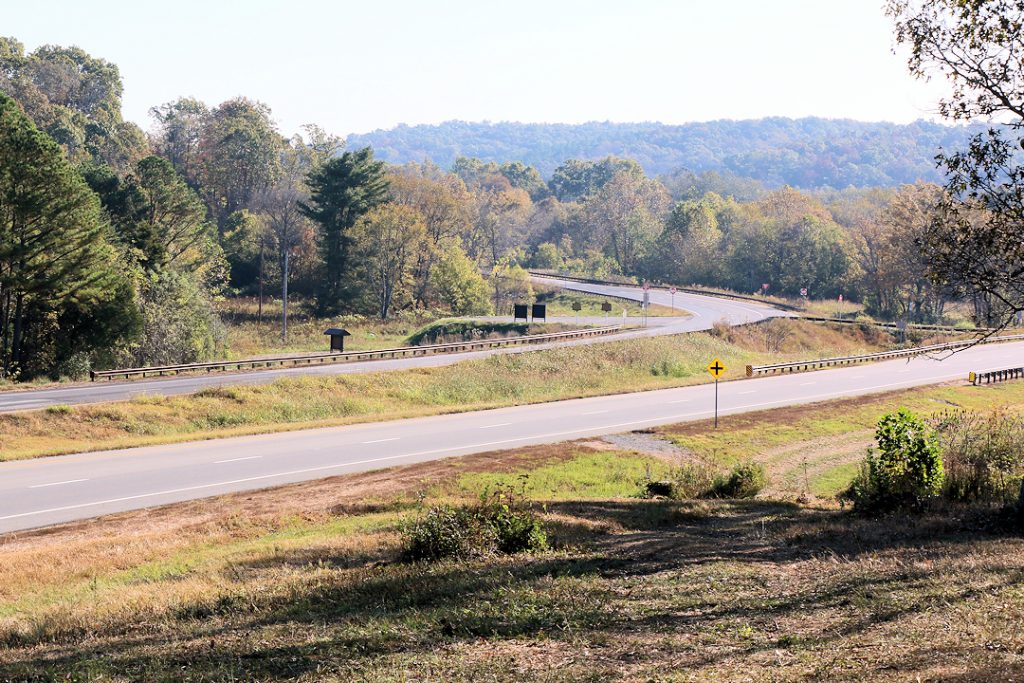 With the authorization of Land Between The Lakes in 1963, the future of Golden Pond looked bleak.  One proposal was to create a national recreation area that would encompass all of present-day LBL except for the US 68 corridor, effectively sparing Golden Pond and creating a potential tourist town.
However, the decision was made to take all the land, and by 1964 things in Golden Pond and the former between the rivers area started to shut down.   The post office, which had been in service for 120 years, closed for good in 1968.  The last residents moved out of the area in 1970.
Some former residents of Golden Pond settled along KY 94 in northeastern Calloway County, about 10 miles from the old town.  This community became known as Little Golden Pond and is marked by green highway signs along the road.
The aforementioned garden area and a historical marker preserved the site of Golden Pond for 40 years.  In 2009-2010, US 68 was widened to four lanes and all traces of the former site of Golden Pond were obliterated. 
Preserving Golden Pond's Heritage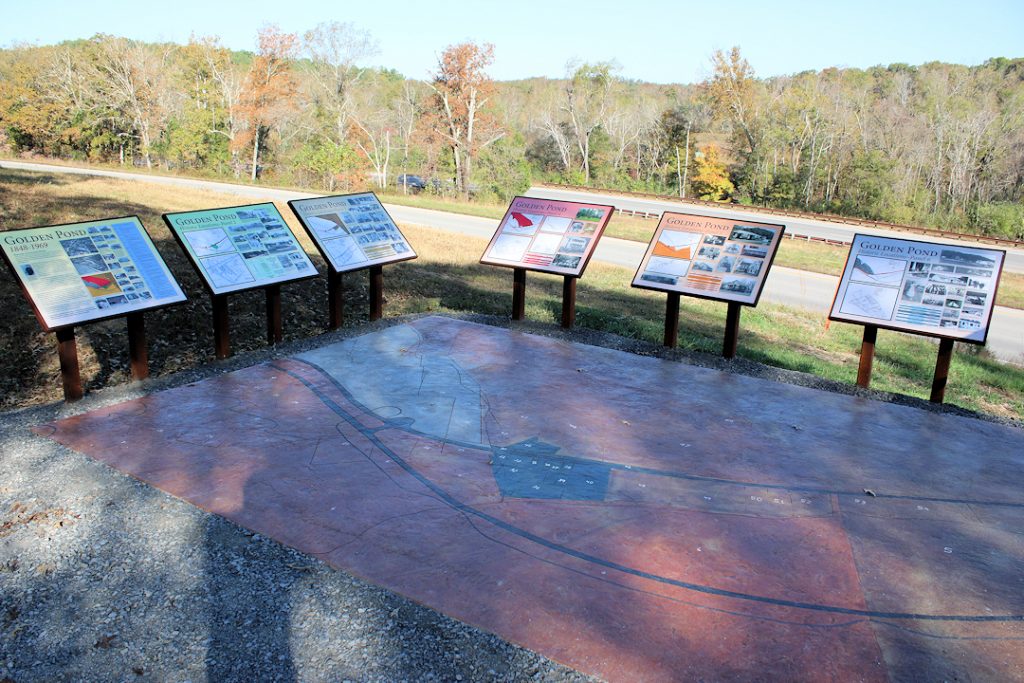 On October 22, 2016, officials from Land Between The Lakes and the surrounding communities along with former Golden Pond residents dedicated a new overlook along US 68.  The Golden Pond Interpretive Overlook can be accessed along the new Central Hardwoods Scenic Trail.  Visitors can park at the Sunset Inn Trailhead along US 68 and walk about 1/3 of a mile to the overlook.
The overlook features a large concrete map that visitors can walk on as well as several interpretive displays featuring the history of Golden Pond as well as old photographs.  Visitors can also see through an etched glass panel that provides a historical layer of buildings and homes that once stood at Golden Pond.
This interpretive outlook does a great job of peeling back the layers of progress over the last 50 years.  It is also a reminder of the emotional pain many residents endured having to relocate and find new roots in the 1960s.
Location
The former site of Golden Pond is located along US 68/KY 80 in Land Between The Lakes, about midway between Kentucky Lake and Lake Barkley.  The exhibit parking area in also in the location.

More Photos
Resources
Land Between The Lakes Interpretive Outlook
The Kentucky Encyclopedia
Wikipedia
Kentucky Department of Transportation
Articles Related to Golden Pond