It's hard to get to do things you want to do when you have a couple of kiddos to take care of.  One of my favorite pastimes was to head out and explore Land Between The Lakes with my wife.  Then when our children arrived, those opportunities became far and few between.  But I love my kids and wouldn't trade them for anything.
Finding sitters to watch both kids simultaneously can sometimes be challenging.  Saturday, September 28th was one of those rare-ish days the chance arose for us to do something without the little guys.  We actually knew this was coming a few days in advance, but we weren't sure what we were going to do with six hours of total freedom.
The night before, I received an email from a gentleman named T.J. Jewell who visits our website frequently and enjoys exploring like us.  He asked if I had ever been to "Hotel California" in LBL and that he had found it.  He went on to give me some pretty good directions and a link to someone's Flickr photos of the structure.
I had heard of this place before but never felt the urge to investigate.  Now that T.J. provided me with an opportunity for a little adventure, I knew what we'd be doing for our kid-less Saturday.
Getting to Hotel California
My wife and I sat out from our home for the northern end of LBL.  The location of "Hotel California" was somewhere near Lake Barkley's Demumbers Bay.  The directions T.J. provided were pretty good.  From The Trace, we took LBL 112 and drove 1.7 miles to LBL 120.  Then we began looking for an old logging lane that was just over a mile down the road.  We saw three potential logging roads and weren't sure which one it was.
Eventually we ended up past Smith Cemetery.  The road intersected with the old Kentucky 522, which today doesn't have an LBL road number assigned.  It's basically an abandoned state highway that serves a couple of backcountry camping sites (and I might add some ideal tent locations).  We turned around at this point and decided to pick the best-looking old logging road.
We took an educated guess on which one was the way to "Hotel California".  The road was impassible so we pulled off to the side and starting walking.  The trek was downhill for a bit until we ran into some trees and debris on the road.  A foot trail veered off to the side so we followed it.  We crossed a dry ditch and continued to follow the trail until something in front of us began to show itself through the thick trees.  We arrived at "Hotel California".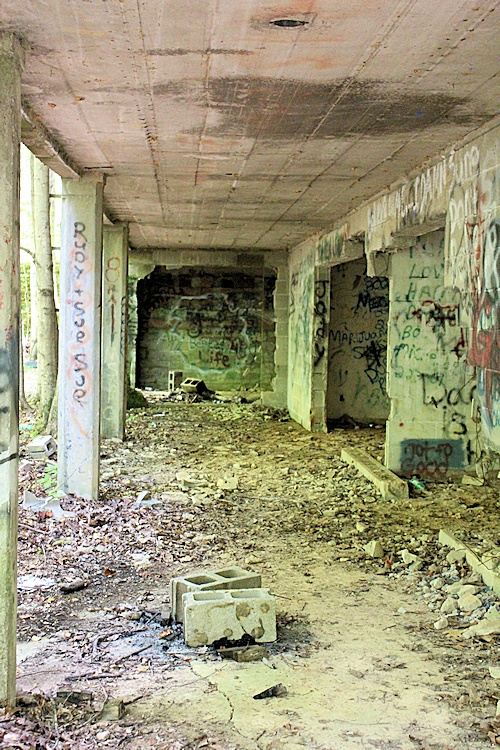 First impressions were great.  This had to be the largest remaining structure of its kind in LBL.  It was two stories and built of concrete block.   There was a large porch area in the front and several rooms upstairs and downstairs.  The building had been completely gutted.  With some very few minor exceptions, nothing was left except the concrete.
The building was intriguing because we didn't know what it was.  It looked too blocky and square to be someone's house.
In the front of the building was an abandoned well.  Thankfully the Forest Service had fenced off the well so no one could fall in.  You could barely see the remains of a driveway leading up to the bottom and top levels of the structure.  Upstairs were former restrooms which still had some pipes in the walls and some really old floor tile.  The building had electric at one point.  My wife and I were really only able to recognize the porch, the bathrooms upstairs and a possible garage in the bottom left.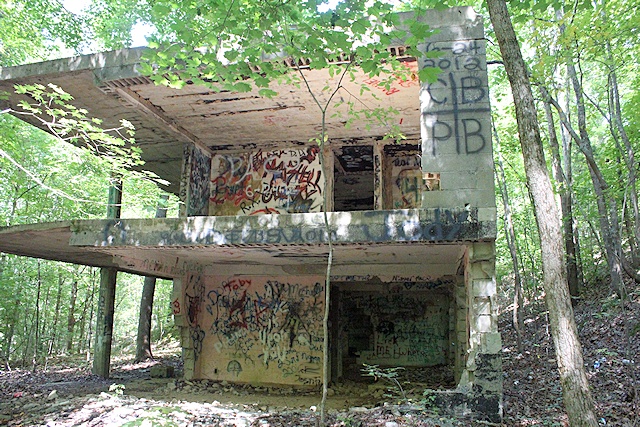 The second thing that quickly jumped out to us was the place is a haven for party-goers.  There was profane graffiti everywhere.  There had to be hundreds of beer bottles and beer cans scattered in and around the structure.  A make-shift ladder ran up to the roof where, at least on that day, a perfectly good camping chair sat on top of the roof.
The next thing that became obvious to me was a portion of this building was not structurally sound.  The right front side of the building is being held up by a single concrete post that had been stripped down to the rebar.  I was not about to go frolicking on top of that thing.  And I swear that corner of the building is sagging.  So if you check this place out, I highly recommend not walking on the far right of the second floor.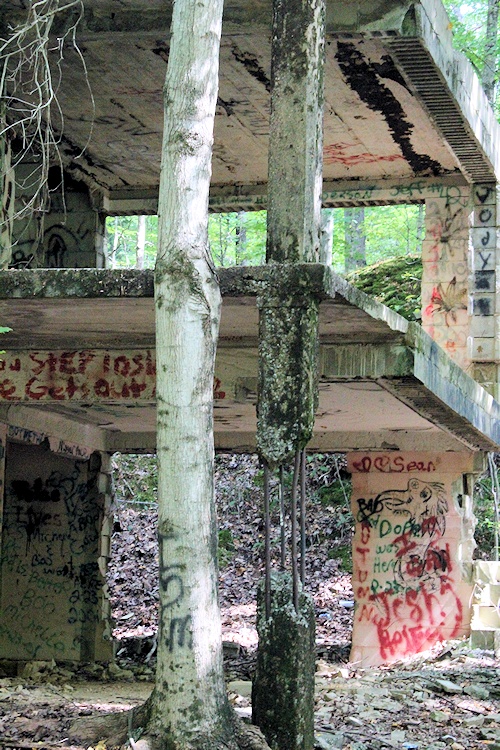 After spending about 30 minutes at the site we decided to head back, but not before I recorded the GPS coordinates of the structure.  I also recorded the GPS cords for the old logging road that went to the building.  You can find those cords at the end of this article.
Hotel California Was Once A…
So what was this thing?  Clearly it wasn't a hotel – not quite big enough.  But surely it wasn't a house due to its concrete block and somewhat fortified build.   The following Monday, I emailed the Heritage Program at Land Between The Lakes and they shared with me that it was in fact a house.  I couldn't believe it.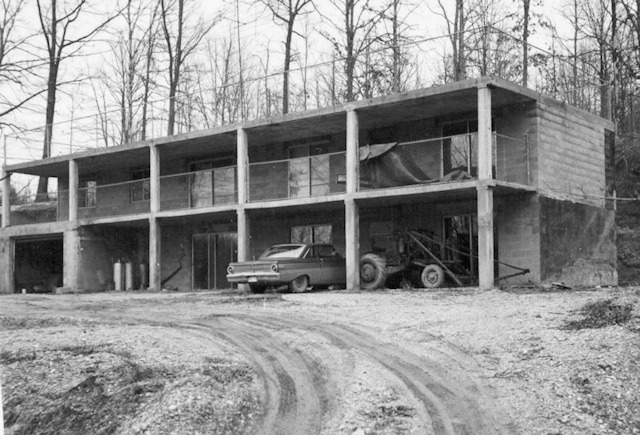 The home was built sometime before the creation of LBL by a riverboat captain named Grover Marler.  He built this place as a retirement home for him and his wife.  Jamie Bennett, the director at the Heritage Program, sent me an aerial photo of Mr. Marler's home when Lake Barkley was first flooded.  I also was able to find a TVA archives photo of his home before it was purchased to create Land Between The Lakes in the 1960s – some 50 years ago.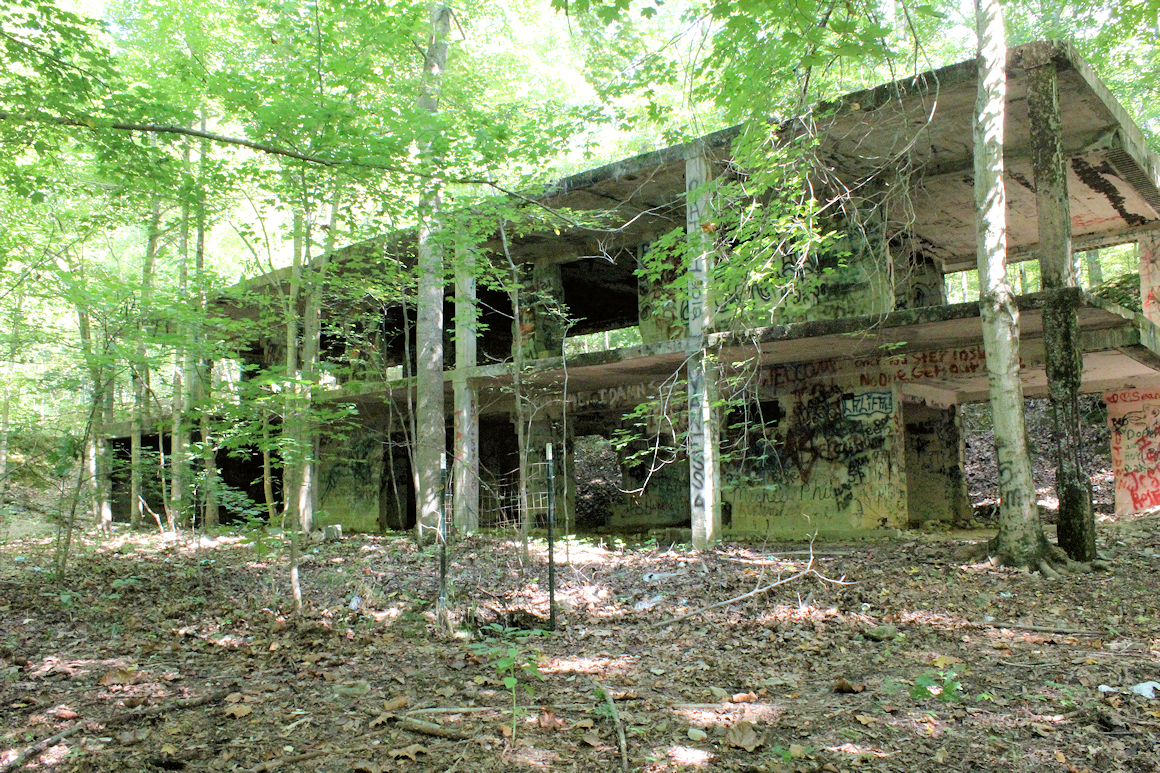 When I saw that TVA photo, I was really surprised.  Some of the aspects of the home were unusual, not to mention it was entirely built out of concrete block.  Glass sliding doors dominated the front.  The flat roof had a chain-link fence around the top and the porch's rails were chain-linked as well.  We did correctly identify the garage area before we knew for sure what it was.
The home had a driveway leading up to it from the old state highway (KY 522).  The old logging road we took to get to the structure isn't on any of our old maps.  Perhaps one of the most interesting revelations is that this home at one time had a view of Lake Barkley.  While we were there, we certainly couldn't see the lake and had no clue it was just a few hundred feet away.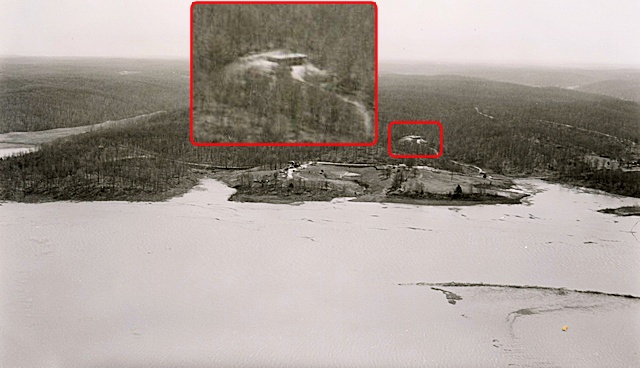 Apocalyptic Thoughts
Now stay with me for just a second.  Something hit me when I saw that old TVA photo of Mr. Marler's home.  Could you imagine how he would have reacted if someone had showed him a picture of what his retirement home would look like in the 21st Century?  Stunned.  Shocked.
Did our country suffer an apocalypse?  Did the Rapture take place?  What in the world happened?
Imagine seeing a photo of your current home in 50 years – heck, even 20 years – gutted, painted with graffiti, littered with beer bottles and cans, and reclaimed by the forest.   How would you react?
That deep thought isn't the emphasis of this article, but it is something that struck me.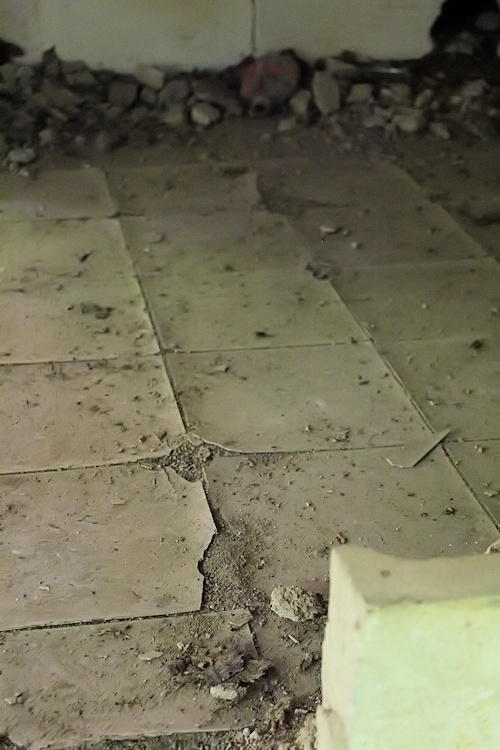 If you like visiting and exploring abandoned places, this is right up your alley.  But before you go, remember this:
Leave no trace.  If you go, don't contribute to the hordes of beer cans and bottles already there.  The place is a borderline dump.  And don't test your artwork skills with spray paint, either.  Even a couple of trees near the building had spray paint on them.
Respect the property.  Years ago the blood, sweat and tears of a retired riverboat captain went into this building – his dream home.  Remember that when you walk around.
Be safe!  That second-floor right side doesn't look too good.  I wouldn't walk on it.  We also noticed thousands of mud-dauber nests, with at least one nest active with wasps.
Consider not taking your kids.  Your children will be exposed to extreme profanity, graphic depictions of vulgar activity, anarchist symbols and artwork promoting Satanism.  Sounds like a good time, huh?
Location of Hotel California
To get there from the Trace, take LBL 112 1.7 miles to LBL 120.  Go to the GPS coordinates of 36.98377'N / 88.14180'W.  It is a little over a mile down LBL 120.  At those coordinates, you'll see an old impassible road going right.  Park there and go about 0.1 to 0.2 miles, following the trail.  The structure is at 36.98716'N / 88.142'W.