St. Stephen's Church in Land Between The Lakes is historically significant because it is only one of a handful of the known original remaining buildings in LBL. The church was built in 1900 by German Americans seeking a place to worship. The final service was held in 1945. For the next 18 years, the church sat vacant next to the church's cemetery.
Why The Building Remains is a Mystery
In 1963, when TVA (Tennessee Valley Authority) began acquisition of land between Kentucky Lake and the soon-to-be Lake Barkley (completed the following year) for the creation of LBL, the church was completely overlooked. Why? We aren't sure, but one of our theories is that the access road to the church from Kentucky 289 was flooded when Lake Barkley was created.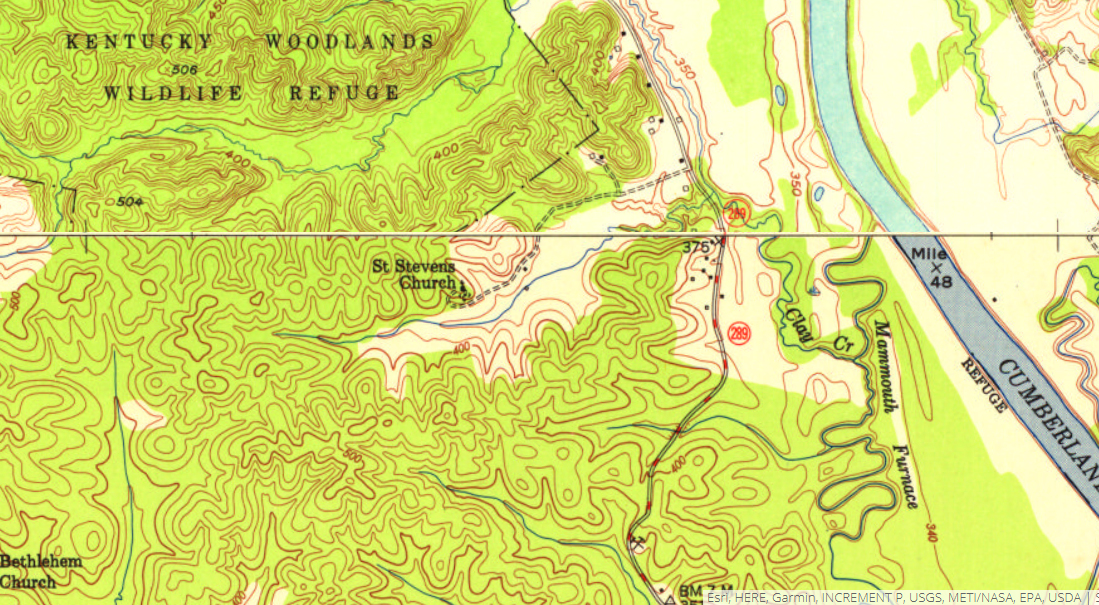 Kentucky 289 and most of the church's original access road is now underwater and pretty much destroyed. However, a cemetery resides there next to the church, a cemetery that people would surely not forget about; so our theory may not hold water.
However, one way we can back our theory is by the maps shown here. Today, LBL Road #415 (which was created after LBL's inception) is the new access point to the church and cemetery.
Restoration
The church wasn't forgotten by everyone. In 2000, a group known as "Between the Rivers, Inc." requested permission and was approved by U.S. Forest Service to restore the old church. It was done after nearly 4,000 hours of man labor.
The drive down LBL Road #415 is very interesting, too. It is a very windy, hilly, one-lane gravel road that could be, at times, impassible. You probably don't want to take a Lexus down the road, but most of the time most vehicles can get there. The road is about two miles long and is accessible by taking Old Ferry Road (LBL Road #117, Old Kentucky 58) to LBL Road #122. If you blink, you'll miss it, but it is a fun road trip to take. When you get there, you will certainly appreciate the church and the effort put into it, as well as the historical significance of the 120-year-old structure.