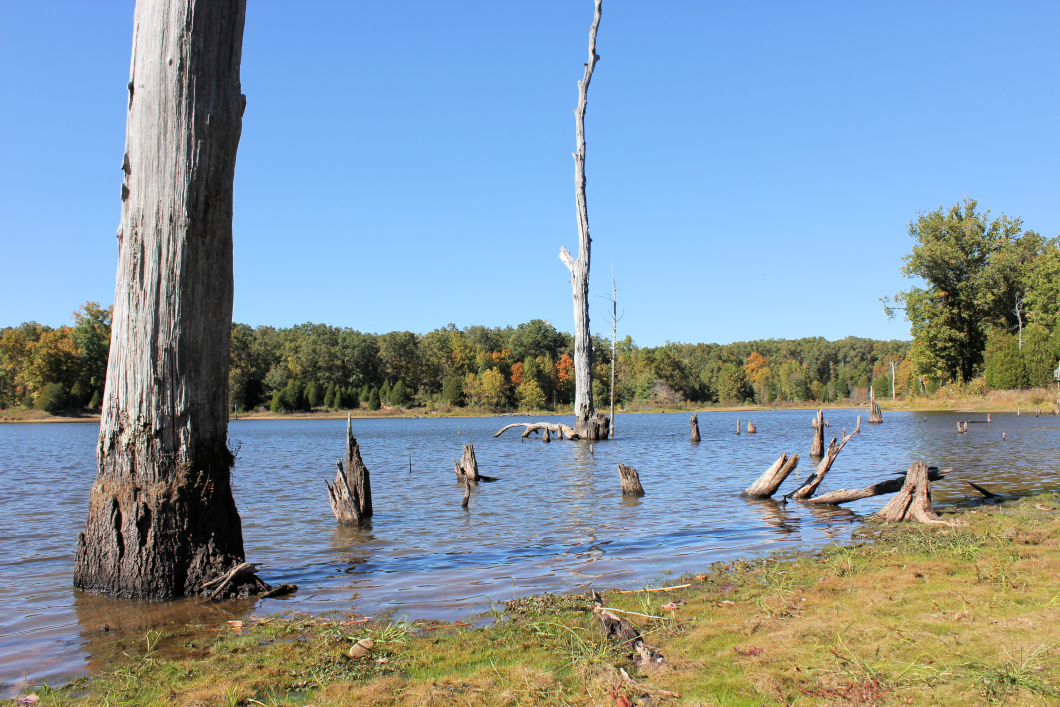 Most people understand the two lakes referenced in Land Between The Lakes (LBL) are Kentucky Lake and Lake Barkley.  One look at a map and it's unmistakable.  There's a giant piece of land in between two massive lakes.
What a lot of folks don't realize is that within LBL are other smaller lakes.  Duncan Lake is one of those which is located within a wildlife refuge in the western part of LBL.
The best time to go to Duncan Lake is in the fall before November 1st.  The different hues of autumn can be seen throughout the trees.  The lake is clear and the dead trees add to its charm and beauty.  Although there are no facilities whatsoever, its a great place to spread a blanket and have a picnic.   The scenery is awesome.
Duncan Lake is a wildlife refuge.  Access is not permitted from November 1st through March 15th.  The refuge is home to abundant wildlife, notably waterfowl and eagles.  Most wintering eagles and waterfowl will begin migrating back north by early to mid-March, allowing the refuges to be re-opened, according to Steve Bloemer, Wildlife Program Manager at Land Between The Lakes.
There are no official hiking trails around Duncan Lake but you can walk across the earthen dam and some of the shoreline.  While we were there, we saw what we believe were two immature bald eagles.  Chances are if you go to Duncan Lake, and if you're quiet, you'll be able to witness eagles as well.
Duncan Lake's Location
From the Trace in Land Between The Lakes (north of US 68, south of Grand Rivers), take LBL Road #132 and travel 0.7 miles.  Look for the first gravel lane on your right.  Take that a few hundred feet to Duncan Lake.  If you drive down into a valley and see the earthen levee on the right, you've missed the entrance.
Duncan Lake Photos