Visitors to Land Between The Lakes can take a step back in time to an era before virtually any modern amenity.  The Homeplace 1850s Working Farm and Living History Museum features an active farm with period buildings, tools, animals, and interpreters dressed in attire of the 1850s.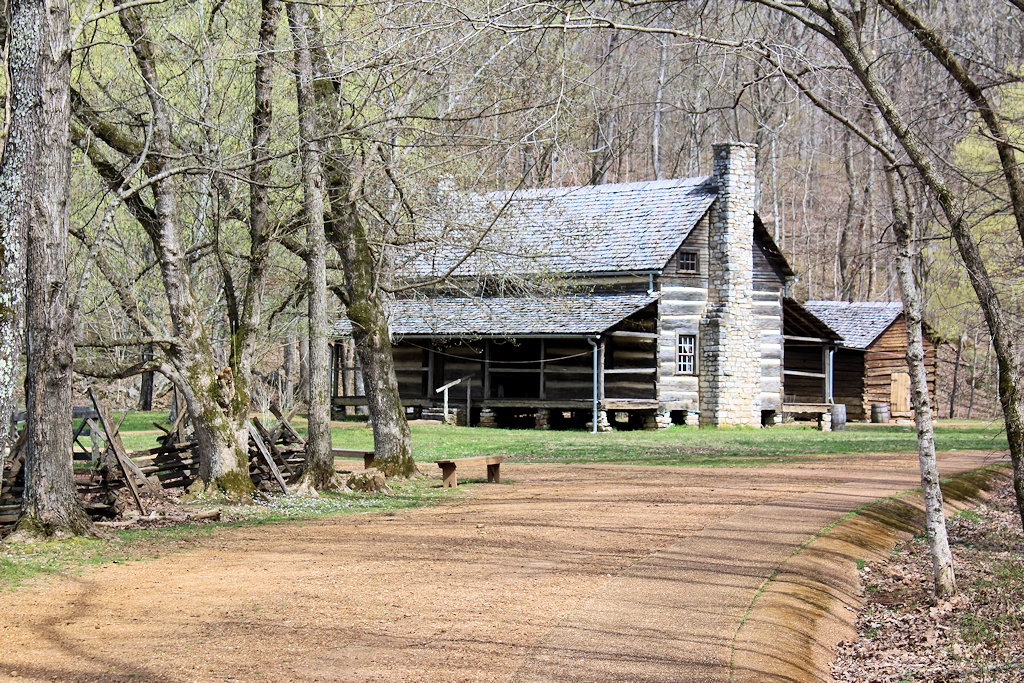 We recently visited The Homeplace for some fresh photography and to experience some of the demonstrations we hadn't seen before.
It was early spring with the trees beginning to leaf and fresh blooms sprouting everywhere. The day was beautiful – warm, abundant sunshine and perfect for those working the farm to do some old-fashioned plowing.
Back before the Civil War days, mules were the primary animal choice for pulling loads.  With a horse as the mother and a donkey as their father, mules were naturally hardier and more tolerant to heat and disease.
On this day the resident mules, named Dan and Todd, were working the small plot of land behind the main residence. An interpreter was riding the plow as Dan and Todd pulled the load around the field.  These 1500-pound beasts were up for the task and handled the job with ease.
Demonstrations
Many of these types of demonstrations take place throughout the day at The Homeplace.  We were able to watch a gentleman create shingles out of logs using tools that included what looked like a club and a small axe or hatchet.  To be honest, the work looked quite grueling!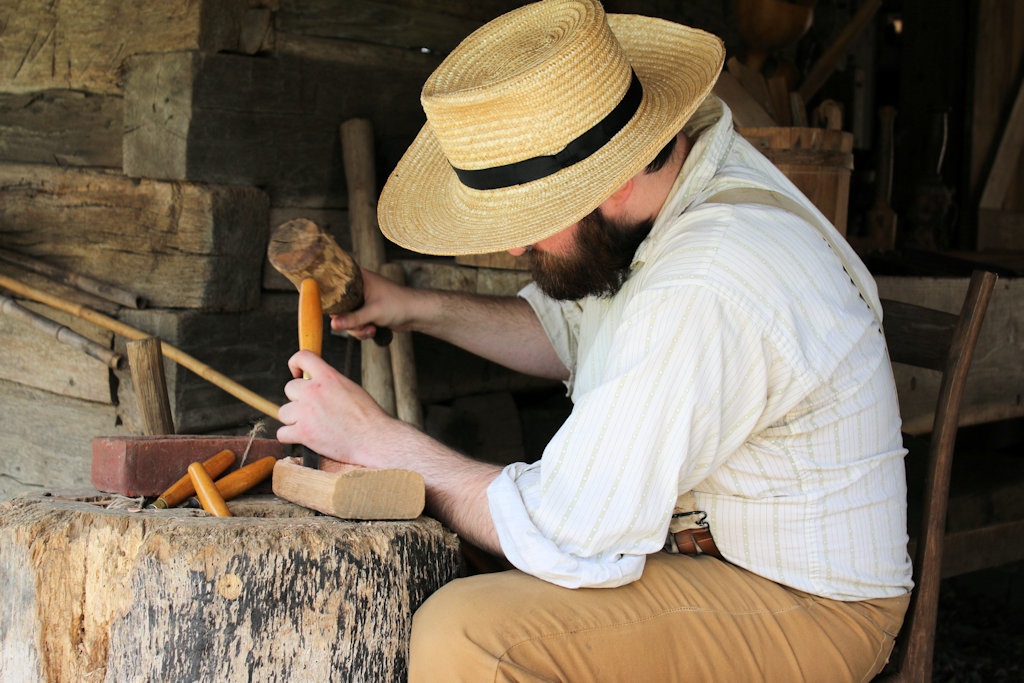 We saw another interpreter working on a different wood project, but this job seemed relaxing and quite appealing for those who love to work with wood.  Using small chiseling tools, he was carving out a container for holding tools out of a single block of wood.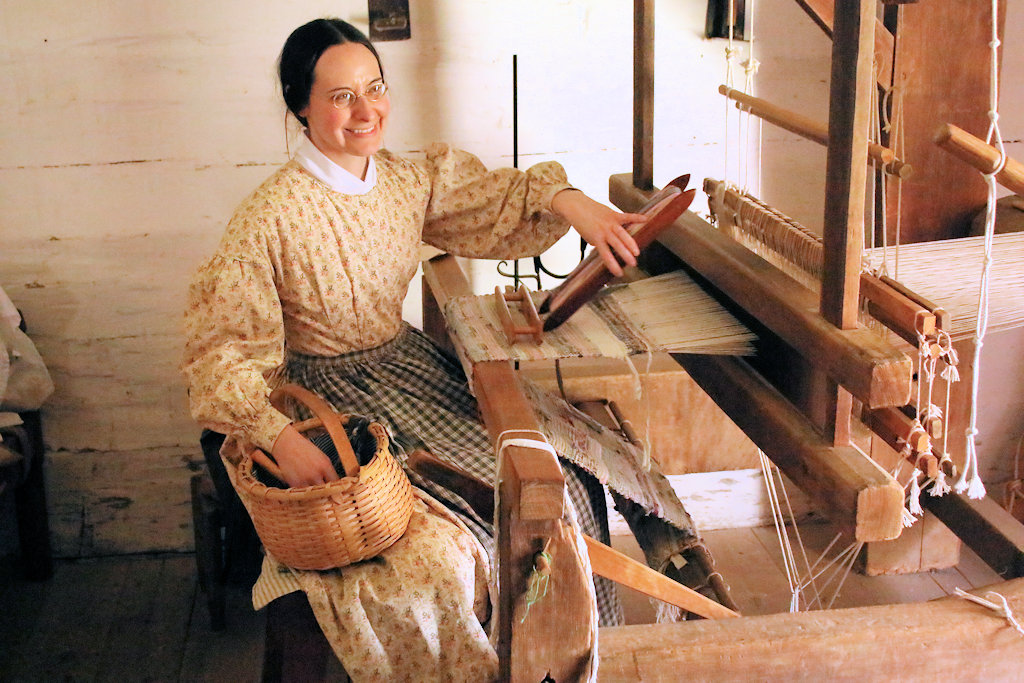 Women interpreters were also demonstrating tasks that were common in the mid-19th Century. Carding wool from sheep and working it using a spinning wheel to create thread was one of those demonstrations. Another was taking scraps of cloth and using a loom to create rugs.  And another worked the kitchen, complete with period dishes and cast-iron stoves.
All the interpreters were enthusiastic about their work and enjoyed explaining to us and the other guests what they were doing. They loved answering our questions!
Farm Animals
Mules like Dan and Todd weren't the only animals that provided labor and sustenance for farms 170 years ago.  Sheep provided wool for fabric, rugs, and clothing.  Chickens and pigs were staples for food.  Oxen and horses were key for labor and transportation. These animals were all at the Homeplace, along with others, each with their own unique role.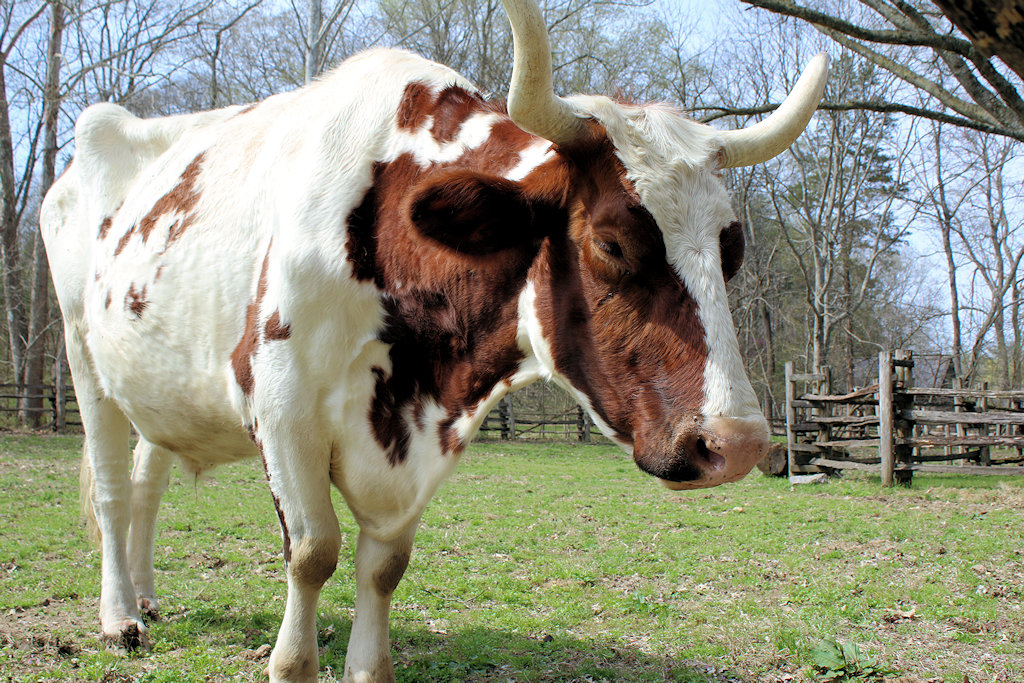 The Homeplace features many buildings from the time period, most notably the double-pen house. The main residence featured two sections with a breezeway in the middle.  Bedrooms were upstairs.
A smokehouse, blacksmith shop, woodshed, tool shed, corn crib, livestock barns and houses, an orchard and much more can be explored.  A beautiful spring-fed creek provides cool, clear drinking water for the farm. Springs or other clean sources of water was a necessity back in the day, since electricity to pump water wasn't around.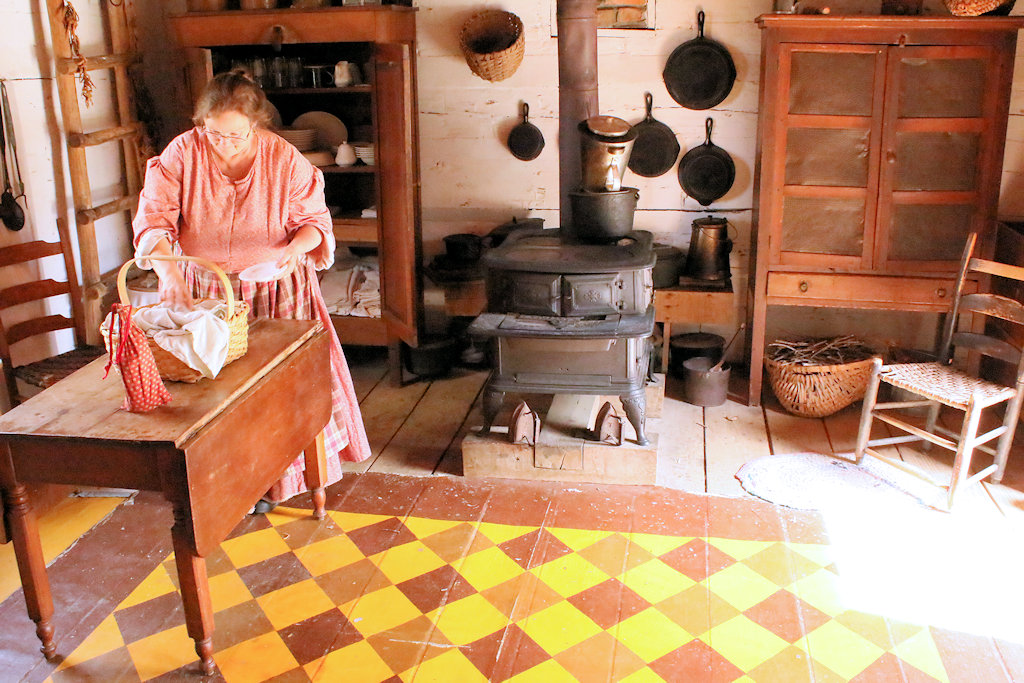 The Homeplace 1850s is very affordable.  A family of four can enjoy the living history farm and museum for under $20.00. This place is a must-see when visiting Land Between The Lakes!  For more information, call (931) 232-6457 or check out our Homeplace 1850s section on LandBetweenTheLakes.com.
The Homeplace is located at 4512 The Trace, Dover, TN inside Land Between The Lakes.  It is about 15 minutes south of the Golden Pond Visitor Center.