Canton is located along US 68 on Lake Barkley in Trigg County, Kentucky. It is an unincorporated community that contains some residences and a few businesses that cater to local tourists.
History of Canton
Canton's modern-day roots can be traced back to 1799. Abraham Boyd and his part were the first settlers. This area was the first community in Trigg County. From North Carolina, his people developed the town known as Boyd's Landing. A horse-powered mill, cotton gin, and warehouse became the center of a thriving shipping location due to its location – right on the banks of the Cumberland River.
A post office was established here on October 15, 1820 with George A. Gordon serving as postmaster. In 1823, Boyd laid out the town he called Canton and the post office was renamed in August of that year. The origin of the name Canton is unknown, although it has been suggested it is named for a seaport in China.
Native American Settlements
Canton is also the site of two different Native American settlements. One to the north of US 68, known as the "Canton Site", dates to the Mississippian period, or about 1,000 A.D. Evidence of this site includes notched arrowheads, pieces of ceramic, and strong evidence of a permanent home-like structure.
Recently, a newly-discovered site was unearthed at the Lake Barkley bridge project, just a few feet south of the existing US 68 highway, right on the shores of Lake Barkley. Sharp stone tools, spear points, scrapers and abundant stone flakes were found in the dig. The shaping of the tools produced the stone flakes. This site dates back to 8,000 to 6,000 B.C. during the Early Archaic period.
Location of Canton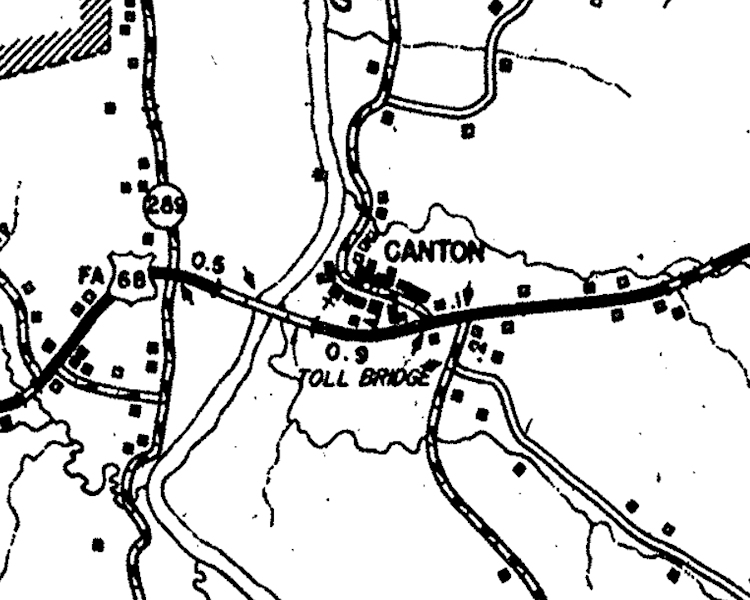 Canton is located on US 68 / KY 80 about nine miles west of Cadiz. The community is located on the eastern shores of Lake Barkley.
The GPS Coordinates are 36.7989568,-87.9696112
Canton Contributions
Four Rivers Explorer is always a work in progress, including this section. If you have any information you would like to share about Canton, please contact us.
References
Kentucky Place Names, by Robert M. Rennick
Trigg County History Book
Articles Related to Canton